Although many companies are talking about bringing portions of their manufacturing and assembly back to the Unites States, the broader supply chain implications seem to be getting less attention.
But, key questions are begging consideration: If companies come back to the U.S., what happens to the Chinese supply base that has evolved over the last decade? Will first- and second-tier suppliers also be expected to relocate?
The verdict, for now at least, is out. And most agree it will take some time to determine if and how the dominoes will fall. Still, some companies are starting to look at various scenarios should repatriation of manufacturing to the U.S. pick up steam.
Certainly a major influencer will be economies of scale, said Thomas Dinges, senior principal analyst for electronics and media at IHS.
"The real issue is much more about the small things than the big things. Think about how semiconductors are still going to be fabbed where they have been because the economies of scale are in the places where they are currently manufactured," he said.
"Ultimately, the impact will be felt in areas that have wholesale up-and-moved to China. Some discrete components — for instance, fasteners and capacitors — fall into this category. The likelihood that these folks transferring huge portions of their operations back to the U.S. after moving them offshore a decade or more ago is rather slim in my view," said Dinges.
As an example, the capital costs that these companies have invested are so large that it's hard to justify moving them back, added Dinges Plus, if these companies scale back in China, they run the risk of no longer holding onto favorable tax advantages in their local jurisdiction. This means companies will need to add incremental cost and risk, such as longer supply chains and higher logistics costs, to their supply chains, according to Dinges.
Alternatives to Moving Factories
That isn't to say it can't be done or won't be done, he added, but the more likely near-term expectation is that many suppliers will keep their existing factories in China and add stock warehouses closer to their end customer's final assembly location.
"Within the next two or three years, I actually don't see much change in the global electronics landscape, aside from a few high-profile shifts, such as Google-Motorola phones in Texas, Apple high-end computers in Texas, and so on," said Dinges. "The broader supply chain really is in Asia, and the markets that have growth are tilted more toward Asia."
"The higher-volume markets within the electronics industry are just too embedded in China to replicate the same supplier network here in the U.S., as these make up a much larger piece of the overall electronics market and they are growing," he noted. "It is challenging, in my view, to see how things will materially transform in two to three years. Give it a decade — and then maybe we'll see some change."
Being able to shorten delivery distances using alternative supply chain inventory stocking options and providing better visibility are alternatives to the costly option of relocating manufacturing, according to Brian Daniels, vice president of spend analysis at SciQuest, a business automation solutions provider. That's part of what's driving the growing demand for cloud-based and software-as-a-service (SaaS) tools that help companies better monitor and more efficiently manage their supplier networks, he said.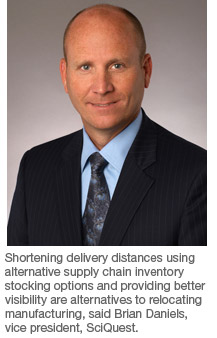 While some of this is fueled by the need to better understand and account for who's contributing what to the supply chain, the tools — embedded today with more sophisticated analytics algorithms — provide a clearer picture into lead times and total landed costs trends, Daniels said.
"Companies want to know the true total cost, wherever it may be coming from," he added. "By leveraging SaaS capabilities, companies can be more nimble. They'll be able to more quickly identify new potential sources of supply, plan alternate delivery routes and conduct better online negotiations in some product categories."
What will affect longer-term decisions to shift the supply base toward the U.S. are the same factors influencing manufacturing decisions today, As noted in a recent MIT report, U.S. Re-Shoring: A Turning Point, the top drivers swaying the manufacturing footprint are the usual suspects: Time-to-market issues; cost reductions; product quality; regaining operational control; supply chain management costs, and intellectual property protection.
How quickly these issues impact the rest of the supply chain is pure guesswork now. But if U.S. reshoring is really a wave worth watching, it will cause a domino effect sooner rather than later.