The global outsourced manufacturing industry posted stronger-than-expected gains last year as sector revenue grew 5% over 2011. However, growth is expected to moderate in 2013 to 4.5% and slow further to just under 4% for the next few years due to continued weakness in the global markets, according to the latest edition of the EMS & ODM Monitor, a monthly report on outsourced manufacturing published by IHS.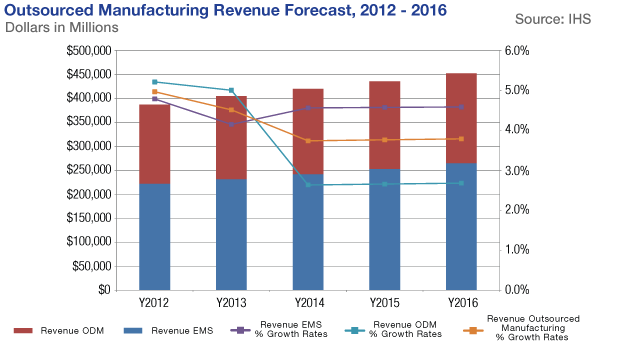 Outsourced Manufacturing Revenue Forecast 2012-2016
Although electronics manufacturing services (EMS) providers and original design manufacturers (ODMs) are roundly optimistic about business conditions this year, demand for their services will depend on a few broad economic and political developments outside the control of the industry. These include whether Europe's economy rebounds; the effect that tax hikes and spending cuts will have on the U.S. economy; and how China's new leadership carries out economic reforms and manages GDP growth, according to the IHS report. As they attempt to manage through these uncertainties, EMS and ODMs are sharply focused on improving cash flow and inventory velocity, while OEMs are looking to slash manufacturing costs.
"Customers want lower cost because all of them are under pressure to maintain margins. They are expected to continue to keep growing their earnings even if the revenue growth is not as nearly as robust as it has been coming out of the last two years," said Thomas J. Dinges, CFA and senior principal analyst with IHS and the author of the EMS & ODM Monitor. "They are pushing really hard across the supply base."
Contract manufacturers face their own cost challenges. Steadily rising labor costs in emerging economies, especially China, are challenging their profitability. From 2008 to 2011, for example, China's hourly manufacturing labor costs rose by more than 80% and are expected to rise at a similar rate for the next four years. This compares with the estimated increase of around 10% for the U.S. over the same time period, according to PricewaterhouseCoopers LLP estimates.
EMS and ODMs are fighting back by focusing on improving cash flow by improving inventory management. Inventory is typically one of the larger asset categories for most companies. As inventory levels come down, the theory goes, cash flow usually improves. "If 2012 was the year of inventory velocity, then 2013 is the year of cash flow," Dinges said
In recent years, EMS and ODMs have restructured their balance sheets and taken advantage of lower interest rates to reduce costs and reduced interest rates, Dinges said. And with a fair amount of revenue and earnings growth, investors have wondered why they are not generating better cash flow. Companies are under a lot of pressure to be very diligent about their capital spending behavior. And for a couple of years now, they've gotten a free pass.
"They've been continuing to build out some infrastructure for some key customers. And these customers now expect them show better inventory velocity and much better cash flow.," Dinges said. "That's where the key focus should be."
Some leading EMS providers have taken steps to satisfy their OEM customers. For instance, some are not asking customers for a deposit, while others are pushing their customers to prepay for slow-moving inventory, Dinges said.
Case in point is Plexus Corp., based in Neenah, Wis. Late last year, the EMS provider signed a disengagement agreement with Juniper Networks that helped mitigate Plexus' balance sheet risk since Juniper "will provide sizable quarterly cash deposits to Plexus against the inventory obligations," said Todd Kelsey, Plexus' executive vice president, Global Customer Services, in a recent earnings conference call. "At the end of the transition, Juniper or its suppliers will buy all inventory, including finished product that is not shipped to Juniper's end customers."
Plexus does not expect an inventory write down since all inventory on hand and future inventory obligations will be covered by Juniper. As a result, Plexus expects to generate $45 million in free cash flow from the disposition of Juniper-related inventory, once the deal is completed.
Singapore-based Flextronics International Ltd reported a "huge bright spot" in its third fiscal 2013 quarter of free cash flow totaling $395 million, up from $342 million the previous quarter. It was able to achieve this despite the boost in its capital spending to fund bookings, according to Mike McNamara, chief executive officer of Flextronics, in a recent company earnings call with analysts.
Flextronics has considered its healthy cash flow as a strong feature of its business model, driven by strong working capital management and control. In its latest quarter, its net working capital decreased to $1.61 billion from $1.78 billion the prior quarter.
"This 9% sequential reduction in net working capital is a meaningful contributor of cash flow generation this period," said Flextronics' chief financial officer, Paul Read, during the conference call.
A key indicator of Flextronics' efforts to improve working capital is its steady increase in inventory turns over the past 12 months. Better inventory management has boosted its inventory turns to 7.7 turns in the most recent quarter with $2.9 billion worth of inventory on its books, compared with 7.6 turns in and $3.6 billion in the same quarter a year ago.
For San Jose-based Sanmina Corp., inventory reduction and cash generation are the two priorities for its management team, according to Bob Eulau, executive vice president and chief financial officer. Inventory dollars were down $47 million in its first fiscal 2013 quarter from $780 million the previous quarter, but inventory turns declined to 6.9 from 7.1. Despite the drop in inventory turns, Eulau said the company was pleased with the outcome on inventory as manufacturing demand dipped in December.
Sanmina management, however, believes the company is headed in the right direction with its cash flow. "Cash generation was outstanding this quarter, with cash flow from operations at $97 million and free cash flow at $78 million," Eulau said, attributing the company's capital structure improvements to "well-timed capital market transactions."
Those transactions include the redemption of Sanmina's remaining 2014 senior floating rate notes. By the end of its second fiscal quarter ending March, the company will have reduced its long-term debt by almost $900 million since the end of fiscal year 2009. Short-term debt will be higher, but at much more attractive interest rates, improving its capital structure.
These are all good signs that the industry is on the right path, according to IHS's Dinges. At the end of the day, he said, inventory is the only thing EMS and ODM companies can control. "I think this is the year inventory velocity finally improves."