On one level, the strategy behind Lenovo's two blockbuster acquisitions in January is crystal clear: the company wants to diversify beyond the PC market, globally and quickly. It plans to move into higher margin products and capture more market share in a broader range of product categories and geographies.
But look a level beneath that, and you'll find different wrinkles in Lenovo's move into each market. Its $2.3-billion purchase of IBM's x86 server business is an attempt to expand its X86 business into an area with higher margins, while also opening doors to more business with enterprises, especially the Chinese government. Lenovo's $2.9-billion purchase of Motorola Mobility from Google will move it into higher-end mobile phones (presumably with higher margins) while also giving it a brand name and carrier relationships that open doors to the North American and Latin American markets. In both acquisitions, the company hopes to leverage supply chain efficiencies; most likely sooner in servers than in phones.
Dominating the PC business
Lenovo has grown quickly since it entered the PC market in 2005 when it acquired IBM's personal computer division. In just the last five years, revenue has more than doubled, from $15 billion in 2009 to almost $34 billion in 2013, making the company the number one supplier of PCs in the world. And net income has grown right along with that, from a loss of more than $200 million in 2009 to profit of $632 million in 2013.
Despite Lenovo's success, the writing is on the wall for the worldwide PC market, which declined a full 8% last year, according to IHS. Not only is the company trying to move beyond PCs, but it also is shifting to a strategy of expanding margins, says Alberto Moel, senior analyst at Bernstein Research in Hong Kong. For years, Lenovo's profits grew as a consequence of its rapidly growing revenue. Now that revenue growth is slowing, the company needs another way to increase profits.
The company had already started down that path, a strategy it called "PC Plus." But launching into 2014 by spending more than $5 billion in acquisitions, as well as reorganizing its business structure, supercharged that effort.
Lenovo did not respond to requests for an interview, but in a January press release outlined its reorganization plans. Effective April 1, the company replaced its previous two business divisions with four: PC Business Group, which includes Lenovo and Think brands; Mobile Business Group, which includes smartphone, tablet, smart TV products; Enterprise Group, which includes x86 servers and storage; Ecosystem and Cloud Services Group, which includes both Android and Windows systems.
Servers a Logical Next Step
The server acquisition surprised virtually no one; Lenovo and IBM were widely rumored to have been in talks for a long time. Lenovo has had an ongoing relationship with IBM since it acquired the PC business. Ezra Gottheil, computing practice principal analyst at IT consulting firm Technology Business Research (TBR), says the question was not whether Lenovo would buy the server business, but when and at what price. After all, "this is the kind of business that IBM doesn't like and Lenovo does like," he says. "But Lenovo did what Lenovo does. It expressed its interest and waited for the price to be right." That price turned out to be $2.3 billion. "Lenovo had walked away from a considerably higher price less than a year ago," Gottheil notes.
The deal made sense for both companies. The server business had been an anchor weighing down IBM earnings. For the last several quarters sales had been down by the double digits, and the company cited server sales in China as the culprit, says Thomas J. Dinges, senior principal analyst at IHS. For Lenovo, however, it is an opportunity to become a more attractive vendor in the enterprise market, which is healthier than the consumer market, as well as make higher margins than it makes on PCs. Although Lenovo already had a small server business (about 2% market share), the acquisition catapults it into a solid number three position with 10% market share, behind Hewlett-Packard and Dell, says Craig Stice, senior principal analyst, Compute Electronics, IHS.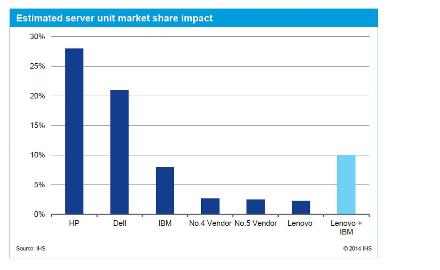 Perhaps more important, a strong server line gives Lenovo access to deals with the Chinese government. Already inclined to purchase from home-grown vendors, the Chinese have become even less enthusiastic about purchasing servers from U.S. companies since the National Security Agency spying scandal. "With many of the major Chinese government contracts going only to local Chinese server vendors, Lenovo will have a great opportunity to gain traction within China where it already is the number one PC vendor, and to create an instant threat to Hewlett-Packard and Dell, who have been trying to gain traction within China," says Stice.
Also, x86 servers are a prime opportunity for Lenovo to make an already cost-efficient supply chain even more so by leveraging economies of scale, says Moel. Servers were the only IBM product line using Intel x86 chips. For Lenovo, the servers increase its already sizable purchasing power with the processor vendor. "Lenovo has the entire X86 PC portfolio," he says. "It's the same supply chain, but instead of making PC motherboards, they are making server motherboards."
That high-volume business, Lenovo's overall lower cost structure and the fact that servers have margins of 20% to 25%, compared to margins in the teens for its PC business, could make for a "phenomenal business" for Lenovo, says IHS's Dinges. But Lenovo will probably continue to use the IBM facilities that are currently building the servers (which it got as part of the acquisition), rather than try to move production to Lenovo's internal manufacturing, at least for now, he notes. "If you're trying to grow sales, the last thing you want is any disruption on the supply side," he explains. "Lenovo will look at how it can scale the business, especially how it can scale the business in China."
Finally, this could open the door for Lenovo to sell what Moel calls "hyperscale" servers to companies like Google and Facebook, which operate huge data centers. These unbranded barebones servers, which are designed specifically for the high-performance, low-power and low-space needs of data centers, make up the fastest growing part of the server market. Because they are sold directly to the data center companies, this low-touch business model could enable Lenovo to increase server margins for the former IBM business, Moel notes. A recent report by Bernstein Research says that hyperscale servers accounted for about 90% of the unit growth and 50% of the revenue growth in the x86 server market last year.
A possible wrinkle in Lenovo's server plans, however, could be regulatory scrutiny of the proposed acquisition. "Because it's infrastructure, and will be in data centers that potentially process critical information, it will get more scrutiny," Dinges says of the IBM deal. In the past, the U.S. government has squelched attempts by Chinese companies to buy U.S. infrastructure equipment makers. In 2008, for example, a $2.2-billion proposal by Bain Capital and Huawei to acquire 3Com fell apart in the face of U.S. government concerns over security.
Extending the Reach of Its Mobile Phones
There aren't likely to be regulatory hurdles for Lenovo's $2.9-billion purchase of Motorola Mobility. Lenovo already has a sizable mobile phone business of its own. The company started making handsets in 2010, and the business has grown into "a very big, material part of its revenues," Moel says. "They went from having no presence to last fiscal year selling 50 million handsets," primarily in China. Now Lenovo wants to expand into other parts of the world.
With Lenovo already the fourth largest mobile phone vendor worldwide, the Motorola acquisition moves the company into third place and opens the door to the United States and other markets. Motorola makes higher-end phones, is a respected global brand name, and already has established carrier relationships in North America and Latin America, which are a key factor for Lenovo. "It paves the way for Lenovo to become established in the U.S. market by default," says Jack Narcotta, analyst in the computing group at TBR.
Google was apparently ready to unload this money-losing venture into hardware for cheap. It originally paid $12.5 billion for Motorola Mobility in 2011. Over the last two years, Motorola Mobility has lost more than $2 billion. Google kept what is arguably the most valuable part of Motorola Mobility – its patent portfolio – except for 2,000 patents that did go to Lenovo. In addition, as part of the deal Google granted Lenovo royalty-free licenses to the patent portfolio, which could help margins by lowering royalty costs for Lenovo phones across the board, notes Moel.
Meanwhile, Lenovo is trying to beef up its patent position. In April it bought a portfolio of more than 3,800 patents from NEC Corp. According to Lenovo, the portfolio includes standard essential patents for 3G and LTE mobile technologies as well as patents that cover a range of features and technologies used in many of today's most advanced mobile products.
But the success of Lenovo in mobile devices may depend on Lenovo's ability to consolidate manufacturing and integrate the supply chains for Lenovo and Motorola phones. In a February article in the South China Morning Post, Lenovo Chief Financial Officer Wong Wai-ming said the company sees a lot of synergy between the two supply chains and that Lenovo was in the process of planning how much to reshape those supply chains.
Motorola phones have long been made by Flextronics International. In fact, two years ago Motorola Mobility teamed with Flextronics to refurbish a Fort Worth, TX, factory, formerly owned by Nokia, to manufacture the new Moto X phones. Lenovo uses a hybrid supply-chain strategy, which combines its own in-house manufacturing and outsourced contract manufacturing.
However, it's not clear whether Lenovo plans to keep making the Motorola phones in Texas. In December, Lenovo opened its own manufacturing plant for mobile devices in Wuhan, China. According to Moel, this is Lenovo's first factory dedicated to handset production. The company has said that the facility has the capacity to make 40 million to 50 million mobile devices a year, says Narcotta. But much of that may be aimed at markets in Southeast Asia and Eastern Russia.
Lenovo wants to manufacture products close to the markets in which they are sold. "It's as much a play for manufacturing presence as it is for manufacturing capacity," he says. "It's not just about building a facility that can build lots of units. It's also about building a facility that shortens the supply chain." After all, "what would be the benefit of moving Motorola manufacturing to China if part of the intent of the Motorola acquisition was to get in with U.S. carriers? Wouldn't it make more sense to build the Moto x and Moto g at the Texas facility that just went online a couple of months ago?"
Moel notes that Lenovo has said that it would use its own procurement and supply chain for the Motorola phones, which will reduce costs. Lenovo's Chief Executive Yang Yuanqing was quoted in a February Wall Street Journal report saying the company had already identified ways to cut expenses. "With the combined scale of Lenovo and Motorola after the acquisition, we can significantly reduce costs in terms of material procurement and supply chain. When we complete the acquisition, from day one, we can start working on those cost synergies."
As for the next step, will that be moving production back to Lenovo's own facilities? "They've been quiet about that," says Moel. "But my guess is that over time Lenovo will take it back. Why would it have a third-party manufacturer like Flextronics doing something that Lenovo could do itself?"
Life after PCs
When announcing its fiscal third quarter results in February, Lenovo touted its progress in moving beyond PCs. Smart phones, tablets and smart TVs made up 16% of its revenue, up from 7% just two years ago. For the third straight quarter, Lenovo's shipments of smartphones and tablets surpassed the number of PCs it sold, it said.
In the press release reporting the Q3 results, the company said that when the IBM X86 server and Motorola Mobility deals close, "Lenovo firmly believes they will accelerate the geographical reach and competitiveness of its existing smartphone, tablet and server businesses, while ensuring future growth is even stronger and more sustainable."