The focus on energy efficiency in industrial applications has increased exponentially in recent years. With energy prices on the rise, this trend will continue to gain traction for the next decade and beyond.
Some of the major benefactors of this trend have been various forms of motor-driven equipment, especially pumps. It is widely accepted that pump motors make up an estimated 15 percent of global electric energy consumption. However, with more than one third of all centrifugal pumps undergoing stricter energy efficiency regulations by 2017 this percentage is likely to decline. Due to uncertainty regarding these future energy-efficiency regulations, pump suppliers face a delicate balancing act in which they try to remain adaptable enough to comply with future regulations, but also continue to provide their customers with cost-effective solutions to meet the current demands of their customers.
IHS estimates that over 30 percent of all pumps shipped in 2012 were used in water and wastewater applications. Because of the high volume of pumps used in this sector there is enormous potential for energy savings that plant managers are beginning to realize.
A study by the Finnish Technical Research Center evaluated 1,690 pumps at 20 different process plants to analyze the pumps' efficiency. Surprisingly, the average pumping efficiency was found to be below 40 percent. More than 10 percent of those pumps were found to be running below 10 percent efficiency.
Three key factors contribute to the inefficiencies that plague pump users today: throttled valves, pump oversizing and seal leakage. These issues cause plants to use pumps well below their best efficiency points, resulting in a number of detrimental operating issues.
Technological advances used in leak detection equipment and intelligent variable frequency drives (VFDs) are improving pump system optimization. However, due to lack of information and the cost-sensitive nature of these operations, most plant operators are unaware of the potential energy-savings they are missing out on. In addition, it is viewed by many end-users as a major risk to purchase this relatively expensive equipment. In many cases, energy-efficiency is far from a municipality's top priority.
Many plants and facilities have installed pumps that are 20 to 30 years old, so not only do the operators need to install VFDs, but they also need to buy newer, smaller pumps to address these inefficiencies. In many cases, the VFD is viewed as an added cost rather than an excellent method of improving the system's efficiency and therefore minimizing the total operating costs of the plant. In other words, purchasers continue to buy strictly based on the initial purchase price, and not the total lifetime cost of running the system.
To underscore that point, IHS estimates that only about 10 percent of water and wastewater facilities utilize VFDs today. Even when they are used, it is common for operators to connect a VFD to a pump without monitoring the pump's performance after installation.
If a VFD-connected pump is accelerated from half speed to full speed within only five minutes, it is not going to enable the full potential of energy savings. The majority of energy-efficiency gains come from correctly matching the pump output to demand throughout the extended operation of that pump.
Modern monitoring technology allows VFDs to inform the pump user of major inefficiencies in real time, and the biggest benefits are realized in complex scenarios such as multiple pumps running in parallel.
Heating Ventilation Air Conditioning and Refrigeration (HVACR), plumbing, water and wastewater, and irrigation are the leading sectors where the greatest energy saving potential lies. IHS estimates that these sectors make up over 75% of pumps shipped annually. See the figure below.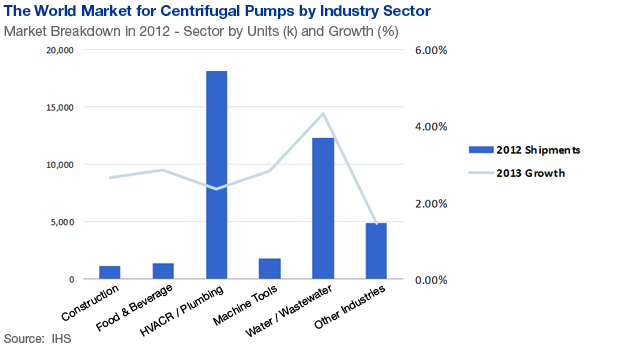 Pump users in these applications remain, on average, highly dubious about the significant energy efficiency benefits and cost savings of these new technologies. Although these users remain skeptical, pump efficiency has been steadily increasing over time amid the advent of life-cycle cost awareness and in preparation for the upcoming regional energy-efficiency regulations.