Artificial intelligence (AI), high-performance computing and ubiquitous computing are all driving the growth of industry I/O requirements — growth that is enabled by serial data links with increased signaling speed and complexity. In case you've wondered just what kind of increases we're talking about, a look at two new standards provides an illustration: PCI Express 6.0 delivers a data rate of 64 giga transfers per second (GT/s), while USB4 Specification v2.0 delivers 80 gigabits per second (Gbps). Both of these standards also use multilevel pulse-amplitude-modulation (PAM) signals.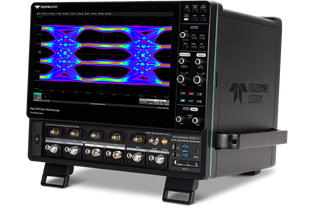 The WaveMaster 8000HD offers increased bandwidth and resolution to support trends in serial data transfer. Source: Teledyne LeCroyAt the same time, serial data link complexity is increasing using dynamic link equalization, negotiation, training and handshaking operations to establish and maintain high transfer rates. Some of these operations are performed over parallel low-speed serial data links using a combination of physical layer signals and protocol communications.
For those in the testing and measurement segment, trends like these translate to the need for increased oscilloscope bandwidth and resolution — something that Teledyne LeCroy has addressed with the launch of its new WaveMaster 8000HD high-bandwidth, high-definition oscilloscope (HDO) platform. The WaveMaster line includes models from 20 to 65 GHz of bandwidth, and what the company says is an industry-leading 12 bits of resolution, sample rate (up to 320 GS/s) and acquisition memory (up to 8 gigapoints, or Gpts). It also adds serial data analysis software options for testing next-generation technologies.
According to Teledyne LeCroy, specs like those more than double the bandwidth and sample rate of its own predecessor model, and they provide four times more resolution and acquisition memory compared to competitive oscilloscopes. The 12-bit resolution provides exceptional signal characterization of the multilevel PAM3 and PAM4 signals used in USB4 Specification v2.0 and PCIe 6.0, respectively, and the 8-Gpt acquisition memory significantly enhances the debugging of link negotiation problems.
The new platform also offers several unique capabilities to meet the requirements of complex link and high-speed embedded system debugging. WaveMaster 8000HD users can:
Merge oscilloscope functions with a PCIe or USB protocol analyzer.
Captures low-speed serial data sideband, training and negotiation links.
More than 20 low-speed serial triggers and decoders.
Capture digital signals with digital logic inputs.
Observe and debug link errors.
Nothing that competing high-bandwidth oscilloscopes may best be utilized for characterization and compliance tasks, Teledyne LeCroy adds that the WaveMaster 8000HD offers a full set of high-speed characterization, compliance, validation and debug tools to support the entire development cycle and enable faster time-to-market.