Geopolitics, shortages, counterfeiting, export restrictions… all of these factors come to the forefront and have caused original equipment manufacturers to completely change their mindset on sourcing and supply chain. The newest round of export restrictions implemented by the U.S. and mirrored by Western nations will create a new set of complications for procurement professionals. Will these new export requirements apply to your products, and will this drive a shift in your sourcing and production strategy?
Start by looking at what's regulated
Companies working with dual-use technologies and in the mil-aero industry have always had to deal with export restrictions on individual components, technical data and finished products. The new round of export restrictions expands far beyond the traditional set of items on the U.S. Munitions List, Commerce Control List (CCL) and dual-use items to include many items that would appear in civilian products:
Processors and ASICs with artificial intelligence (AI)
Chipsets for 600 Gbps and faster data transfer
Radio frequency (RF) ICs for 5G and 6G rollouts
Chipsets high processing nodes
Semiconductor manufacturing equipment
Electronic products
EDA software
Technical data
This all covers a huge range of products and effectively cuts off the ability to produce the most advanced technologies in China. Ostensibly, the restrictions are meant primarily for national security and economic security, according to the U.S. government. While some might argue the effectiveness and validity of new export controls, companies that have historically relied on China as their manufacturing location may need to consider a new strategy going forward.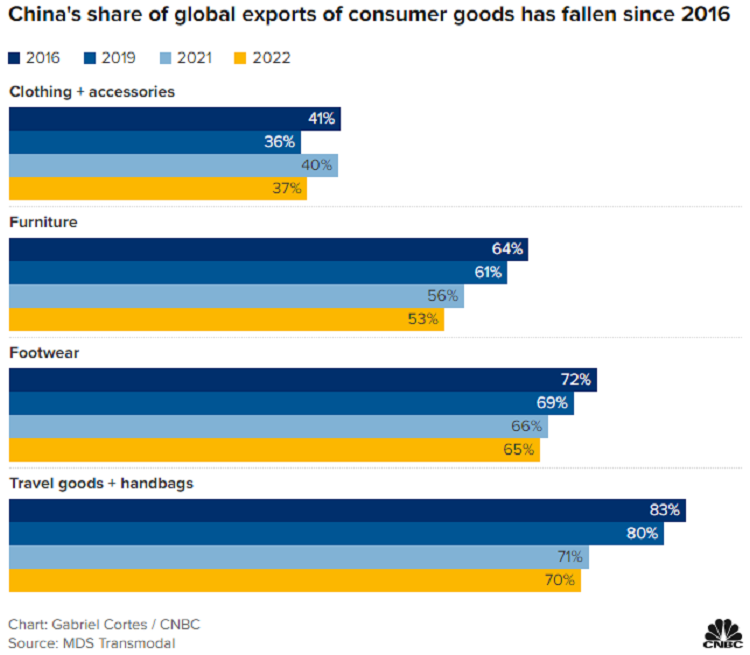 Source: Gabriel Cortes, CNBC
How is sourcing affected?
The new export restrictions expand the list of products requiring export licenses and expands the Entity List. However, it does not change the operational requirements for companies sending components to be assembled into a complete system. Similarly, it does not change the requirements for sending technical data required to fabricate or assemble export-controlled items. The difference is that the new export controls name China specifically and directly target overseas manufacturing of advanced technologies.
Prior to the newest round of export restrictions, companies were already moving their manufacturing operations away from China. According to MDS Transmodal, a group of network economists, the Chinese share of manufacturing was already falling since 2016. In 2022, an American Chamber of Commerce in Shanghai survey showed that the number of companies actively moving production to other countries had doubled.
For companies producing simpler consumer products, or generally products that do not include EAR/ITAR related components or technical data, it's business as usual. Export restrictions might apply at the assembly level rather than at the component level. For other companies producing the most advanced technologies, they will be limited as to where they can produce because they will not be allowed to export the required components and technical data without a valid export license, including if exporting to an American company or a wholly owned subsidiary.
There is a whole other set of liabilities to account for when we start to consider the current state of global production and supply chains. Problems like data security, quality control, facilities security and counterfeiting have all become major problems for companies producing advanced technologies in China. So, the option becomes to stay in China, find an alternative offshore production location or re-shore back to the U.S.
Where is the next offshore production region?
Because China may no longer be the world's electronics factory going into the future, where should companies look for qualified EMS providers? Latin America seems to be a very logical location to produce, and specifically Mexico. According to a recent survey from Capterra, 88% of small business supply chains are seeking suppliers closer to home. For American companies, Mexico fits the bill perfectly for several reasons:
Skilled labor force
Reasonable wages
Access to both oceans
Direct access to the U.S.
Driving distance to logistics factories
Contract manufacturers in same time zone
U.S., Canada and Mexico trade agreements
Automotive experience
For all its advantages, Mexico can still be a difficult environment. Production near the border brings issues with the cartels, there is a lack of access to fresh water without additional desalination efforts, and there are cultural barriers to overcome. In fact, the cultural issue is one of the biggest barriers to product development; procurement teams still must cobble together a large group of Mexican suppliers in order to produce a finished, fully packaged product that can immediately go onto store shelves.
For companies still wary of shifting production to another emerging market (like Mexico), the U.S. is catching up to China, Japan and Taiwan in terms of advanced semiconductor fabrication capabilities, printed circuit fabrication capabilities and packaging fabrication capacity. The new capacity in this area is only now making it to the U.S. and will eventually be accessible in Mexico. Export restrictions are having the effect of driving new capacity, and the hope is that this will drive further growth in demand for homegrown solutions for advanced components.