Sequans Communications S.A. has launched what it claims is the first chipset platform optimized for 5G new radio (NR) broadband internet of things (IoT) devices.
The Taurus chipset could be used for applications such as fixed wireless access, enterprise and private networks, smart cities, smart buildings, portable hotspots, mobile computing, video surveillance and high-end industrial IoT. The chipset supports sub 6 GHz radio in both standalone (SA) and non-standalone (NSA) 5G NR with 4G LTE fallback.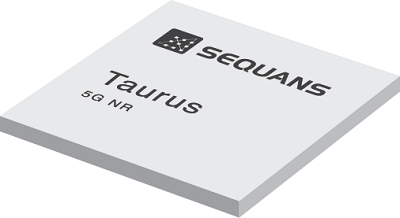 The 5G NR chipset designed for broadband IoT devices used in FWA, private networks, smart cities and more. Source: Sequans The chipset includes a dual-core application processor with high-speed interfaces such as Ethernet.
Other features of the Taurus 5G NR chipset include:
3GPP Release 17
FR1: 600-7125 MHz
SA, NSA and CA for worldwide deployment
LTE fallback
SoC with dual-core APU
Ethernet interface
Annual shipments for broadband IoT modules containing the chips used in IoT devices will grow to 217 million units globally by 2027, according to market research firm ABI Research.
"Initial 5G IoT uses came as no surprise: automotive, and fixed wireless terminals and gateways — namely, high bandwidth applications that can reuse chips originally developed for smartphones," said Jamie Moss, research director at ABI Research. "But the rest of the IoT needs 5G silicon that has been acutely optimized: simpler, more efficient, more affordable, and not merely cut down or hobbled versions of higher performance chips."