Military pilots will have access to faster, more precise threat identification with a new electro-optical intelligent-sensing capability developed by Raytheon Technologies. The RAIVEN electro-optical/infrared system identifies objects optically and spectrally simultaneously in real-time.
Artificial intelligence (AI), hyperspectral imaging and light detection and ranging (lidar) combine to enable operators to see up to five times farther and clearer than traditional optical imaging. This helps increase platform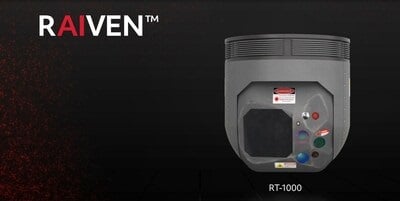 Source: Raytheon Technologies survivability and provides the warfighter decision advantage over peer threats.
According to the company, "RAIVEN improves platform survivability and keeps the warfighter safe by providing accurate, persistent target observation coupled with accelerated information sharing. This combination enables a decision-making process that simultaneously reduces pilot workload while accelerating engagement decisions to prosecute targets much faster than adversaries."
The AI component automatically detects and identifies threats, delivering a level of automation for the operator to choose what decisions need to be made. The first flight test of the modular, open system is scheduled for 2024.