The global market for silicon carbide (SiC) power devices is forecast to grow tremendously in 2023 based on these devices being integrated into electric vehicles (EVs) and renewable energy systems, according to new data from TrendForce.
The market research firm forecasts these semiconductors to reach $2.28 billion this year, reflecting a year-over-year growth of 41.4%.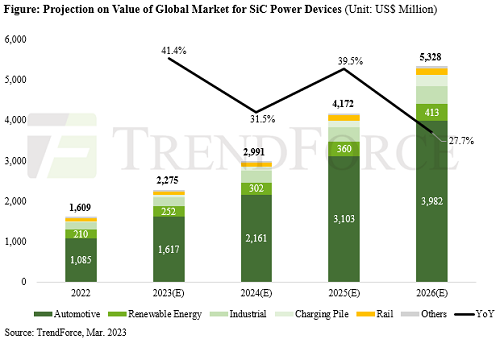 Source: TrendForce SiC devices are suitable for applications that require high voltages and high current levels and rapidly being adopted for these next generation power systems due to their advantages over traditional silicon semiconductors, TrendForce said.
By 2026, revenues of SiC semiconductors is forecast to reach $5.33 billion.
Largest segments
EVs and renewable energy are the highest growth areas for SiC devices.
In EVs, SiC power devices were used in EVs to the tune of $1.09 billion in revenue in 2022, comprising about 67.4% of the value of the entire market for SiC semiconductors. In renewable energy systems, SiC revenues were $210 million in 2022, or about 13.1% of the overall SiC market.
Collaborations between chipmakers is leading to new strategic agreements with automotive OEMs for these power semiconductors. This includes:
The deal between Onsemi and Volkswagen for SiC chips.
Kia adopting the Onsemi's EliteSiC 1,200 V power modules.
Wolfspeed strengthening its relationship with Mercedes-Benz.
Onsemi collaborating with Ampt for solar photovoltaic and energy storage.
Delta Electronics adopting Infineon's SiCs for bi-directional investors for solar, energy storage and EV charging.
As a result of these deals and others to come, TrendForce forecasts SiC power devices used in EVs to rise to $3.98 billion by 2026 with a compound annual growth rate (CAGR) of 38%. SiC power devices used in renewable energy systems will have a CAGR of 19% and reach $410 million.
Market leaders
Wolfspeed has the market share of more than 60% for SiC substrates. The company earlier this year agreed to build its first semiconductor fab in Europe, which will manufacture SiC 200 mm wafers. This comes after Wolfspeed opened its 200 mm SiC Fab at the Marcy Nanocenter on State University of New York Polytechnic Institute campus in Marcy, New York.
Infineon recently formed a long-term supply agreement with Resonac to supply 6 inch SiC materials to the company and will also support Infineon's transition to 8 inch. ST Microelectronics expanded its relationship with Soitec to manufacturer 8 inch SiC substrates.
TrendForce said that due to Wolfspeed accelerating the transition to 8 inch SiC substrates, other suppliers are likely to follow suit and pursue collaborations with other companies to develop these manufacturing capabilities.