Heilind Electronics, a global distributor of electronic components and authorized distributor for TE Connectivity, offers the mini I/O Cat6A connector as part of its full line of TE Ethernet products.
TE Industrial's mini I/O connectors eliminate the need for special tools to create a fast and secure wire-to-wire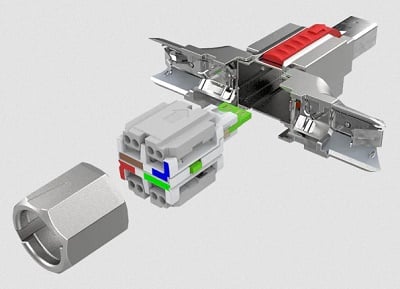 Source: Heilind Electronics or wire-to-board connection. The mini I/O accommodates eight-wire AWG24/26 cables.
The connector automatically cuts off the wire at the optimal length during contacting guaranteeing optimal transmission performance. Cat5e (1Gbps) and Cat6A (10 Gbps) variants are available. Both Type I (D-Mating Interface) and Type II (U-Mating Interface) are available to prevent connector mis-mating.
At only one quarter the size of a traditional RJ45 plug, the mini I/O connector offers printed circuit board space savings. Intended industries and applications include industrial, manufacturing, datacom, robotics, machinery and more.