Olythe has introduced a new miniaturized gas sensor capable of measuring the concentration of acetone in exhaled air for medical diagnostic equipment.
The company will unveil its sensor at the upcoming SPIE Photonics West 2023 trade show. The technology could allow for advances in the detection and treatment of certain diseases and metabolic disorders.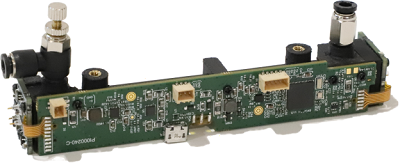 The miniaturized acetone gas sensor could be used in the detection of ketones that could indicate diabetes or liver damage. Source: Olythe Acetone is produced by the liver as a ketone and is eliminated through the respiratory tract and urine. High levels of acetone can cause a state of ketosis or diabetic ketoacidosis, potentially linking someone to diabetes or liver disease.
"Exhaled air is an immense source of biological markers related to a person's state of health," said Guillaume Nesa, CEO and founder of Olythe. "We know that volatile organic compounds are representative of certain inflammatory, cardiovascular, infectious diseases and certain types of cancer. The analysis of exhaled air would thus transform current sampling methods, and would facilitate diagnosis and medical follow-up, which is still too restrictive today."
How it works
The sensor, called OCIEngine, is equipped with infrared spectroscopy technology, which consists of a measuring tank traversed by infrared radiation. When exhaled air passes through this cell, the molecules of interest absorb some of the radiation, which reduces the intensity of the optical signal, Olythe said.
The concentration of the gas can then be calculated. The fluctuation of the infrared radiation emitted in contact with the molecules avoids any transformation or deterioration of the sensor.
SPIE Photonics West takes place in San Francisco on Jan. 31 through Feb. 2.