Most air quality measurement stations only provide outdoor data averaged over time, which fails to deliver real-time, localized information about PM2.5 particulates — those smaller than 2.5 μm — most relevant to human health. Bosch Sensortec has recognized the need to monitor indoor concentrations of these pollutants with the introduction of the BMV080, the world's smallest PM2.5 air quality sensor.
"Indoor air quality is a problem: in poorly ventilated homes, PM2.5 concentration from domestic cooking can reach levels 100 times higher than acceptable limits," said Dr. Lucas Ginzinger, head of product area optics at Bosch Sensortec. "With localized, actionable data from the new BMV080, it's now possible to identify and respond to poor air quality."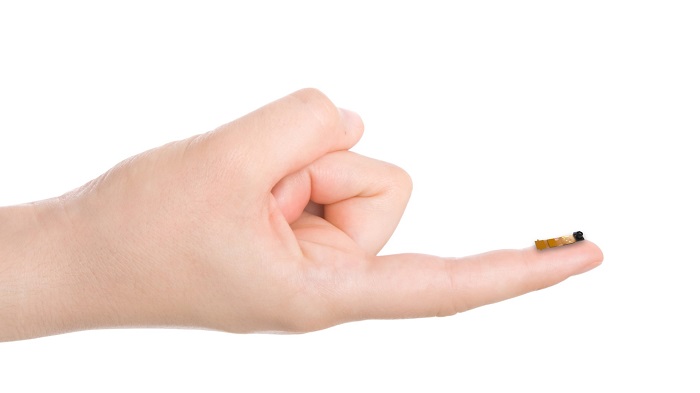 The PM2.5 air quality sensor is more than 450 times smaller than any comparable device available. Source: Bosch Sensortec
The BMV080 sensing element measures only 4.2 mm3 x 3.5 mm3 x 3 mm3 in a fanless, non-intrusive and noiseless design. The new sensor is maintenance-free with no fan-induced dust buildup, which means that it's more reliable and less prone to malfunction. It is a natural fit for ultra-compact wearable or internet of things (IoT) devices such as air quality monitors, smart thermostats, smart speakers, smart switches and smart air purifiers.
Equipped with ultra-compact lasers and integrated photodiodes, the minuscule sensor applies sophisticated algorithms to measure the PM2.5 concentration directly in free space, without requiring a fan. The new sensor is easily integrated into ultra-compact IoT-based smart home and smart building systems to deliver air quality notifications to residents when PM2.5 levels rise above a threshold level. To take action, the resident or home automation system can ventilate by switching on an exhaust fan or filter to clear the air.