Standalone (SA) and non-standalone (NSA) systems have always been controversial. In essence, this controversy can be summed up as the issue of interests. For example, from the perspective of operators, those with a small customer base and low profitability tend to adopt NSA, because independent networking means more base station cost and core network cost investment.
However, the dispute will always be settled eventually, and the game will end in equilibrium. It is an indisputable fact that 5G NSA networking is an intermediate step in the transition to 5G SA networking. No matter which operators and where they are from, they all take 5G NSA networking as their first step to open the 5G market. The 3rd Generation Partnership Project (3GPP) defines 12 networking modes that include NSA and SA.
Now that we are talking about the differences between 5G networking SA and NSA, let's take a brief look at these 12 5G networking modes.
The 12 networking modes of 5G
First of all, we will classify several networking methods according to NSA networking and SA networking. Then we will introduce the networking characteristics of these networking methods and the classification basis of NSA and SA networking.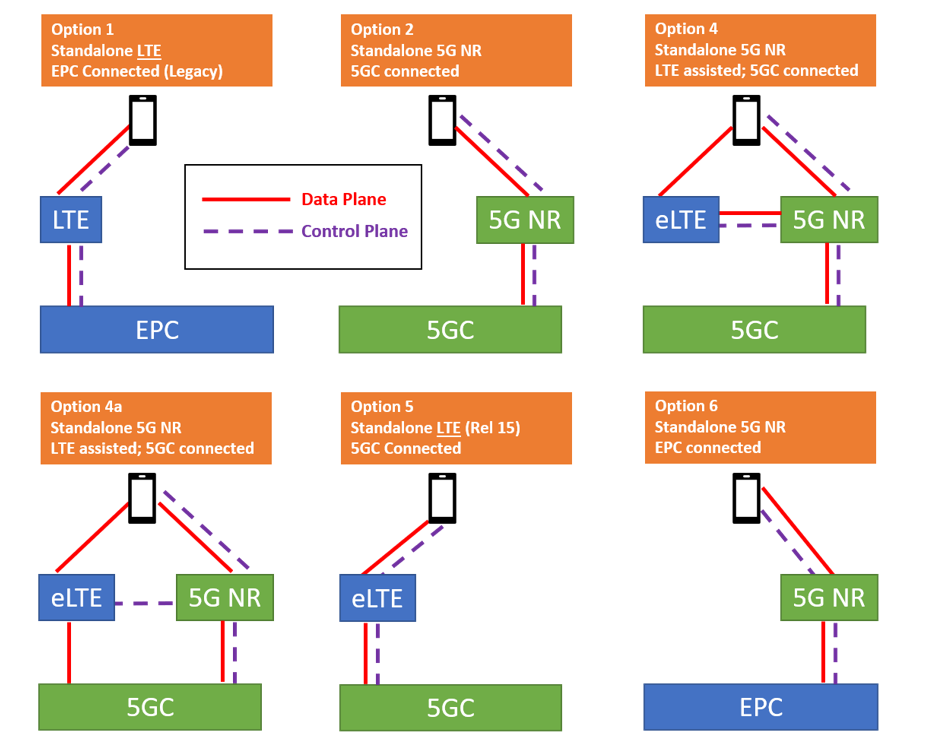 Options of 5G standalone networks. Source: Matt Leigh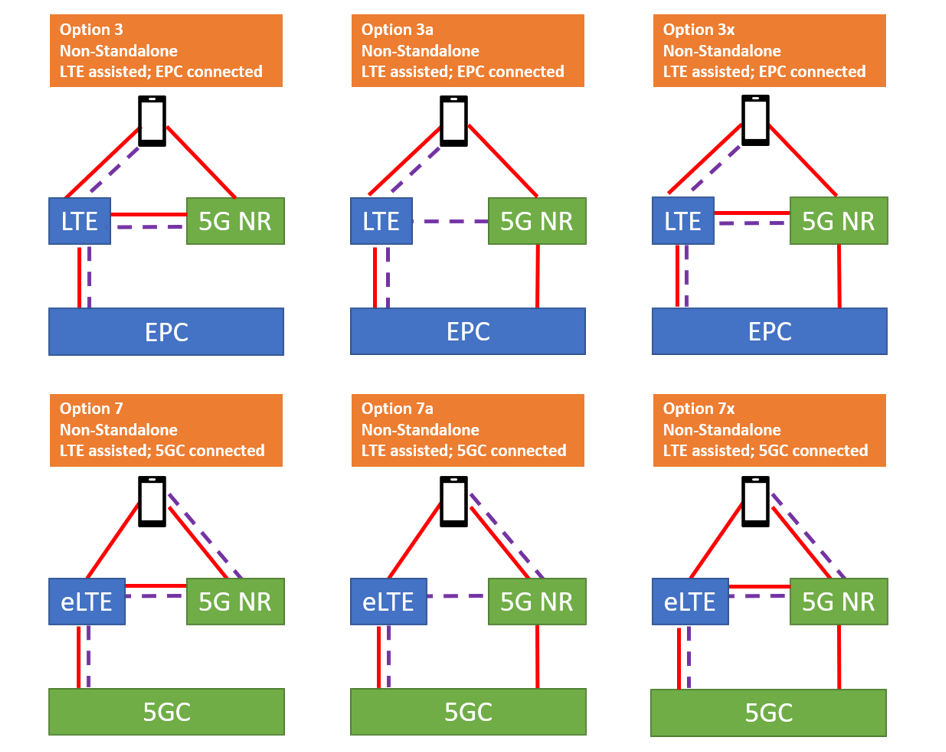 Source: Options of 5G non-standalone networks. Source: Matt Leigh
As shown in the figure above, 5G networking mode has been divided according to NSA and SA. Before introducing the characteristics of various networking modes and the classification basis of NSA and SA, let's first introduce some basic concepts.
In 5G, how we should understand the non-independence is that in a 5G communication system, non-independence means not only are there 5G base stations and a 5G core mobile network (5GC), but also our 4G base stations and a 4G core network and an evolved packet core (EPC). To understand the base station and the core network, imagine that the base station is in the wireless access part of our 5G communication system, and it is the network node closest to our user terminal. The core network plays the role of gathering, forwarding, controlling and adjusting the information of multiple base stations.
So according to the above, as long as there is a 4G with 5G core network and a 4G with 5G base station hybrid network, it is not independent. So, how is it possible that the option 4 and option 4a are independent networks?
How to determine if a 5G network is standalone
The reason is that the key to determining whether a network is non-independent or independent depends on whether the interface between our 5G base station and our 5G fifth generation core transmits the data of the signaling plane (control plane). Interface can be understood as the way of information transmission between each network node. For example, X2 interface between 4G base station and 5G base station, S1 interface between 4G base station and 4G core network, XN interface between 5G base station and 5G base station, NG interface between 5G base station and 5G core network, and so on. And user plane data is some useful information that we actually want to transmit, such as voice information, text information, picture information, video information and so on. Control plane data is mainly some signaling, which is different from user information, as user information is transmitted directly through the communication network from the sender to the receiver, and signaling usually needs to be transmitted between different links of the communication network (base station, core network, and so on), each link is analyzed and processed, and forms a series of operations and controls through interaction. Its role is to ensure that the user information is transmitted in an efficient and reliable way.
Therefore, here is a summary. NR independent networking needs to meet the following two conditions:
It is necessary to deploy with the 5G core network.
The 5G base station and the core network must be interconnected through the signaling plane.
Another point to note is that we have found a lot of eLTE in the diagrams above. What is the meaning of eLTE? LTE refers to the enhanced LTE base station, because it is two different generations of mobile communication systems talking to each other after all, so there are some incompatibilities in protocol. Moreover, because the 4G core network EPC is not compatible with NR protocol, the 5G base station cannot be connected with the 4G core network on the signaling plane, while the 5GC network is designed to be compatible with 4G access, so 5GC is not only able to connect with 5G base station on the signaling plane, but also connecting with the 4G base station on the signaling plane. In this case, however, 4G base stations need to be upgraded and expanded. It is generally upgraded on the software level of the base station; hardware wise, there is not much that need be changed on the base station.
In addition, we will find that although both Option 5 and Option 3 are transformation networking models, Option 3 starts from the transformation of base stations, and the core network does not change at all. And Option 5 really starts with the transformation from the core network, while the base station changed nothing at first.
The reason for having such differences can be analyzed from the business perspective. The current 3GPP R15 protocol mainly focuses on the enhanced mobile broadband (eMBB) service out of the three major application scenarios, focusing on high-speed rate. The wireless connection has the greatest impact from this speed, while the core network does not have much impact from it, so it is why operators start with the base station transformation. When it needs to focus on the massive machine type communications (mMTC) service later, it needs to leverage network functions virtualization (NFV) and software defined networking (SDN) technologies in the core network (bearer network) to provide network slices. For mass connection service, as the speed requirement will not be high, it is the right choice to upgrade the core network first.
Conclusion
It should be said that although there are so many network architectures, the choice of specific network architecture and evolution measures still need to be analyzed and selected in combination with the business scenarios and strategic deployment of each operator. All in all, the network architectures are still in compliance with the major direction transforming from NSA to SA.