Designing solar energy systems for spacecraft or satellites is a daunting, expensive task as engineers must develop durable, efficient and reliable power management systems that often cannot be tested by using actual solar panels to provide power. A test solution is needed that can verify a spacecraft's power management system through high fidelity photovoltaic emulation. Keysight Technologies now offers a modular solar array simulator (SAS) that replicates the conditions a craft or satellite will encounter in space with high fidelity.
The MP4300A SAS is equipped with a 6 kW modular power supply that supports fast current-voltage (I-V) curve changes with a quick recovery time and mimics rapidly changing conditions in space. Reduced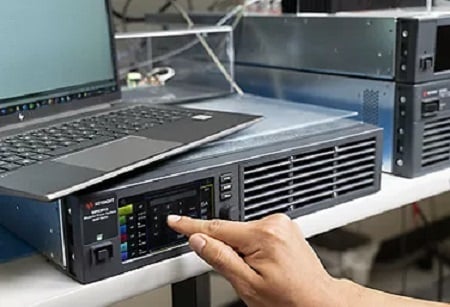 Source: Keysight Technologies thermal testing challenges are reduced due to the modular platform's high-power density, two-quadrant capabilities, and regenerative power technology of the hardware.
The solution provides support for rapid deployment of SAS systems with demanding performance requirements by allowing control of up to six channels through a single I/O port with a familiar programmatic interface. Two classes of 1 kW SAS modules are available: the MP4361A 160 V/10 A auto-ranging module and the MP4362A 130 V/8 A module.
According to Keysight, reliance on the modular SAS can speed time-to-market and reduce the risk of failure after deployment.