NORD Drivesystems delivers intralogistics solutions that focus on high-efficiency, intelligent automation, and reduced total cost of ownership (TCO). Their innovative drive solutions are extremely versatile and used throughout the world in a wide variety of applications including storage and retrieval systems, transfer carts and conveyor systems. NORD's modular product portfolio consists of reliable, UNICASETM gear units with long service life, powerful high-efficiency motors, and dynamic variable frequency drives (VFDs) that optimize automation. Easy to service and maintain, NORD drives reduce standstill times and contribute to an increased efficiency and availability of entire systems.

The new generation of high-efficiency IE5+ synchronous motors combine the benefits of NORD's modular system with the possibility of reducing system variants through constant torque over a wide speed range. Their ventilated variant (F-Design) features high overload capacity while effectively dissipating heat for logistics, packaging, and post and parcel applications.

NORDAC ON/ON+ VFDs were designed for the special requirements of horizontal conveyor technology and use with IE5+ motors. They are characterized by an integrated Ethernet interface, full pluggability, and a compact design. These VFDs ensure smooth, precise operation of speed, positioning and synchronization.

The new DuoDrive integrated gear unit/motor concept combines a high-efficiency IE5+ motor with a single-stage helical gear unit in one compact housing. It is especially suitable for intralogistics due to its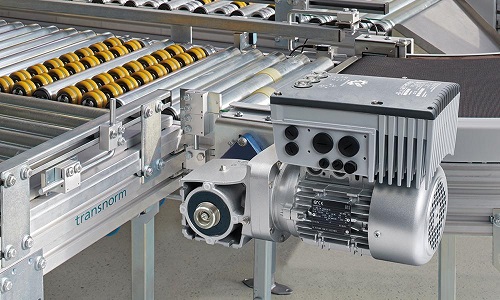 Source: NORD Drivesystems optimized system efficiency, high power density and quiet operation. The DuoDrive also features industry-standard mounting dimensions, plug-and-play capabilities, and results in a significant reduction in TCO.

NORD's two-stage helical bevel gear units are made from high-strength aluminum alloy and available in two housing styles (open or closed). They deliver flexible configurations with multiple input and output options, solid and hollow shafts, and foot, flange or shaft mounting. With their large speed range, quiet operation, and high axial and radial load capacities, these robust gear units provide a cost-effective solution for conveyor systems.

NORDBLOC.1 helical inline gear units are designed with a UNICASE housing for a long service life, increased stability, and safe operation. They have 13 compact case sizes to choose from and deliver a wide performance range of 0.16 hp to 50 hp for flexibility in applications. High output torques paired with efficient operation reduce system costs for a lower TCO and a fast return on investment (ROI).

The NORDAC PRO SK 500P VFDs combine high flexibility and tiered functionality with convenient operation. Their compact design enables space saving installation in control cabinets where space is often limited. Automation is made easy with a variety of interface options including an integrated multi-protocol Industrial Ethernet interface for easy connectivity to Ethernet based control systems, a USB interface that is accessible for voltage-free programming and parameterization even without a mains connection, and a universal encoder interface for use with SSI, EnDat, Biss and more. NORDAC PRO's full PLC functionality and POSICON integrated position mode ensure precise positioning and synchronous operation of drive systems.

The LogiDrive system is engineered to be maintenance friendly, cost effective and energy efficient even with partial load ranges and low speeds. The system consists of a high efficiency two-stage bevel gearbox or DuoDrive, IE4 or IE5+ permanent magnet synchronous motor, a decentralized VFD, an incremental encoder, connectors and pre-assembled cables. The modular design provides flexible installation arrangements and reduces the number of variants, reduces TCO and allows for each unit to be individually serviced — minimizing maintenance, downtime and repair costs.

Condition monitoring for predictive maintenance focuses on status-based maintenance to proactively maintain drive systems. Operating and status data is recorded periodically or continuously to optimize efficiency of machines, sustain operational safety, and deduce when service is required. This approach results in increased system availability, longer service life of components and systems, and plannable, cost-optimized repairs.