Many applications in the bulk goods and material handling industry include abrasive environments with large temperature fluctuations and rough operating conditions. To meet these formidable challenges, NORD Drivesystems has engineered solutions that are robust, reliable and easy to service. Their modular product system includes heavy-duty industrial gear units, high-efficiency electric motors with hazard protection features, and variable frequency drives (VFDs) with flexible functionality.
MAXXDRIVE XD industrial gear units are NORD's newest product lineup designed specifically for cranes and hoists. Compared to standard MAXXDRIVE housings, the XD series has center distances that have been increased by 35%, enabling a U-shaped drive arrangement with the cable drum and motor on the same side of the gearbox. The housings are also optimized for downward forces and include an inspection cover for quick, easy maintenance.
For applications with particularly high thermal ratings, MAXXDRIVE XT industrial gear units are available.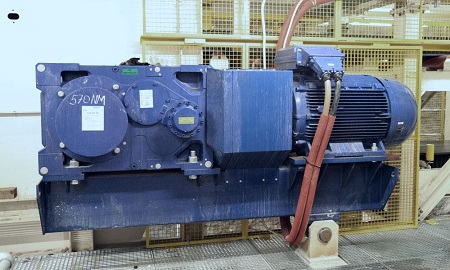 Source: NORD Drivesystems These right-angle units feature an optimized ribbed housing for greater heat dissipation and airflow as well as effective fan cooling due to an enhanced axial fan and air guide cover design. MAXXDRIVE XT units also offer a symmetrical design for mirror image installations where space is limited and can be equipped with a swing base depending on the application.
The MAXXDRIVE standard line of industrial gear units are extremely versatile and are engineered to handle the toughest loads with output torques up to 2,495,900 lb-in and power up to 8,075 hp.
They are built from high-strength, one-piece UNICASE housings that enclose all internal components to protect operators from pinch points, reduce maintenance and extend service life. As different bulk goods require varying plant arrangements, MAXXDRIVE gear units are adaptable to accommodate input and output shafts according to specific dimensions, multiple installation positions, various output shaft bearings and a wide range of output flange and motor options.
90.1 helical bevel gear units are commonly used for bulk goods conveyor applications due to their high-efficiency, reliability and high radial and axial load capacities. They are built from robust, cast iron UNICASE housings and feature infinite life gearing, minimum backlash, and various shaft, mounting, and bearing options, making them highly adaptable to precise application requirements. These gear boxes are available in 11 case sizes, provide torque up to 442,500 lb-in, and performance up to 268 hp.
CLINCHER parallel shaft gear units provide reliable, efficient operation in a cost-effective, compact design. The robust cast iron housings are machined in a single process and require very low maintenance while delivering quiet operation and a long service life. CLINCHERs supply up to 268 HP, produce up to 885,075 lb-in of torque, and have 15 case sizes with flexible mounting options to choose from, making them highly adaptable to fit precise application requirements.
NORD's line of electric motors are highly efficient, extremely robust and significantly reduce energy costs. Synchronous and asynchronous versions are available and are compatible for use with NORD's full range of gearboxes and VFDs for maximum application flexibility. To enable safe operation in harsh conditions of the bulk goods industry, explosion protection options are available to protect drive systems where there is a dust or gas explosion hazard. NORD motors are also highly configurable and feature options such as brakes, encoders, external cooling fans, thermal protection and various connectivity solutions.
NORD VFDs can be controlled individually to intelligently meter, weigh and adjust mass flow for precise, dynamic bulk goods infeed control with fewer backups and breakdowns. NORDAC FLEX VFDs provide maximum flexibility with performance up to 30 hp, fully scalable functions, and easy parameter transfer via EEPROM memory. These drives feature functional safety options, an integrated brake rectifier for motor brake control, parameterization via plug-in control module, and high precision regulation. They can also be implemented with customer-specific process requirements such as automatic blockage detection/elimination and automatic mass flow regulation.
NORDAC PRO SK 500E VFDs offer a compact, cabinet mounted solution with a wide range of functionality. These intelligent drives enable soft starts and stops with high level precision and sensor-less current vector control ensures constant speeds even with fluctuating loads. They are compatible with asynchronous and synchronous motors with rated powers of 0.33 to 200 hp and include four switchable parameter sets, an integrated brake chopper, functional safety options and 200% overload reserve for greater operational safety in cranes and lifting gear.