Microelectrode arrays destined for deployment in brain-computer interface systems can be customized for specific patient needs by use of a nanoscale 3D printing technique developed at Carnegie Mellon University. Available microelectrode arrays only record brain signals in two dimensions, limiting their applications. The new aerosol jet 3D printing technology produces arrays that are denser and more robust than earlier devices and can function in 3D in the brain.
Adding the third dimension significantly increases the sampling ability of the arrays, and devices customized for specific applications allow for more accurate and higher-fidelity readings. Synthesized with a 3D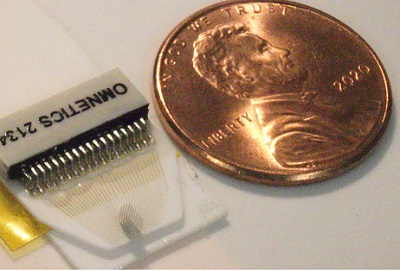 A printed 32-channel probe with routing and attached connector; U.S. one cent coin shown for scale. Source: Science Advances, Vol 8, Issue 40/DOI: 10.1126/sciadv.abj48 nanoparticle printing system, the new array is the densest manufactured to date.
The metal-polymer printing process enables rapid prototyping and custom routing of signals via changes to the printing programs. Printing of 3D features provides a route to the fabrication of hollow metallic tubes that can be used as microneedles for drug delivery or extraction of fluids, all while recording bioelectric signals.
This technology outlined in Science Advances broadens scope for engineering customizable large-scale probes with thousands of channels over several square centimeters area.