Researchers from the U.S. Department of Agriculture's Agricultural Research Service have found that tractor guidance can help farmers better use their resources, ultimately saving money and time. It also allows farmers to be more precise when performing field tasks, like planting, spraying herbicide and applying fertilizer.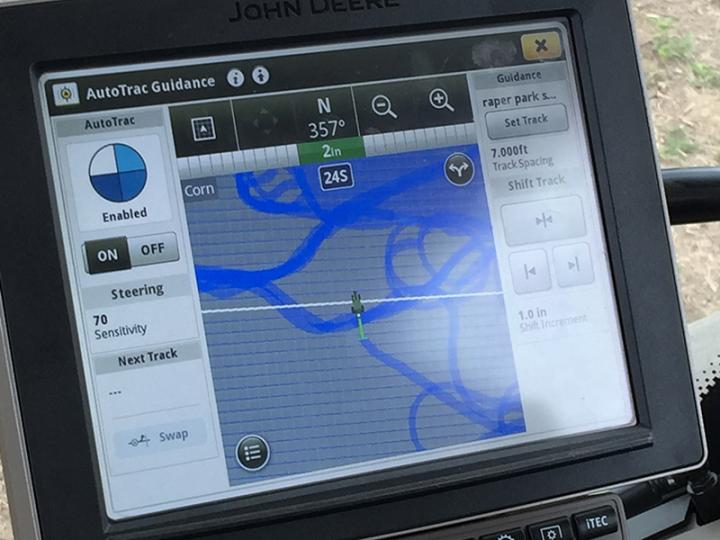 Tractor guidance screen as seen during a fertilizer application. Source: Mike Popp
When planting or spraying chemicals, a farmer makes a series of passes across a field on a tractor. There are inefficient overlaps and gaps in the trail. Not utilizing tractor guidance is a missed opportunity to improve crop production. Tractor guidance could be used to reduce these overlaps and gaps and allow researchers to track and record tractor movements.
To gather their data, the team improved the existing calculations to best measure the overlaps and gaps. This also helped determine where tractors should turn at the end of the row.
Precision agriculture technology has proven to improve farm efficiencies by up to 20 percent. Results showed that tractor guidance can reduce overlaps by six percent and reduce gaps by up to 16 percent. Profits on small farms are made from small margins, so even a small decrease in fertilizer costs can mean major savings. Precise application of fertilizer also lowers the chance of dangerous runoff and environmental contamination.
Tractor guidance could save U.S. producers more than $10 million annually. It also allows farmers to operate in low light, allowing them to get more work done in the evening.
Next the researchers hope to understand how field slope and objects in the way of a tractor affect the tractor guidance.
A paper on this research was published in Agricultural and Environmental Letters.