At Mobile World Congress 2022 in Las Vegas, Airgain has introduced what the company claims are first-of-their-kind directional 5G fixed wireless access (FWA) antennas.
The antennas will significantly advance the future of indoor and outdoor 5G connectivity for the broadband alternative, Airgain said.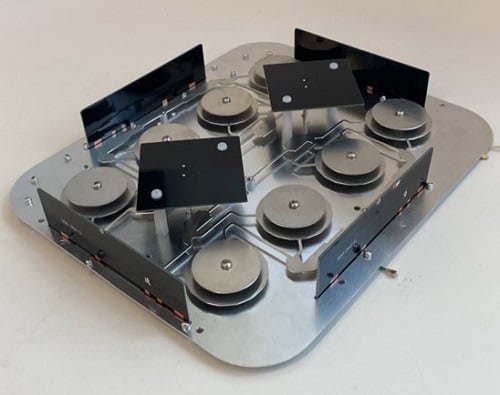 The directional 5G FWA antenna that will be on display at MWC 2022 in Las Vegas this week. Source: Airgain Traditional FWA antennas are designed to be omnidirectional and prioritize simplicity over performance, Airgain said. The directional FWA antennas provide an operator-specific frequency band for a boost in speed and connectivity.
The customized antennas have been tested by Airgain using testing equipment and the company found it to have superior performance over traditional FWA antennas.
5G signals, especially at a higher spectrum range, struggle to penetrate through walls, trees and other obstacles, which makes deployment indoors difficult. With FWA slated to be used by residences and offices, indoor connectivity is of critical importance and the antennas presumably will help with the connections of this broadband alternative.
What is FWA?
5G FWA is broadband for homes or businesses using 5G cellular to supply wireless technology. 5G signals are converted into Wi-Fi signals through base station construction and paired FWA devices as user internet connections.
According to market research firm TrendForce, FWA has advantages over fiber-to-the-home in terms of infrastructure and maintenance costs, including the elimination of ground excavation, burying cable and installation in buildings and households. With governments looking to expand broadband, many are seeing wireless as a low-cost means to provide broadband internet services, the market research firm said.
Shipments of 5G fixed wireless access broadband units are expected to reach 7.6 million units this year with shipments expected to grow to 13-million-unit shipments by 2023, TrendForce said.
Mobile World Congress 2022 takes place in Las Vegas September 28-30.