If you've been around the technology field for a little while, you've almost certainly heard the term "software-defined networking," or SDN. The term describes an approach to network management that directs traffic through software and programming interfaces rather than hardware such as routers and switches. Control of the network, as a result, happens through a centralized interface; administrators can provision resources and change configuration settings with far greater flexibility than is found in traditional networking.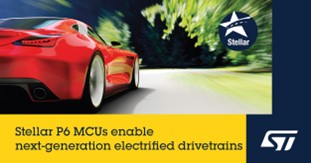 ST Microelectronics says that its Stellar P microcontroller series are the industry's first qualifiable devices for model year 2024. Source: ST MicroelectronicsBut the software-defined architecture approach doesn't stop there. The same concept is now being translated into the next generation of EVs, as carmakers transition to software-defined vehicles. That means electric drivetrains and systems that can be updated over the air, allowing management of complex features such as assisted and automated driving.
Perhaps unsurprisingly, this transition requires a top-to-bottom revamp of vehicle platforms. Instead of multiple electrical control units each managing small subsystems, zone controllers may be used to consolidate software from across a range of vehicle systems and manage combinations of multiple functions. Seems safe to say that the need for automotive-grade microcontrollers (MCUs) able to handle large quantities of data and integrate key functionalities has never been greater.
ST Microelectronics has answered this challenge with its Stellar P series MCUs, which the company describes as the industry's first qualifiable devices for model year 2024 vehicles to integrate the new controller area network extra long (CAN-XL) in-car communication standard. The Stellar P joins the company's family of Stellar automotive products that also includes:
Stellar E series: Designed for real-time control and system miniaturization in power-conversion applications, maximizing the benefits of SiC and GaN power technology in EV applications including onboard charging, DC-DC converters and traction inverters.
Stellar G series: Designed as a secure data HUB and real-time aggregator of functions within the body domain, primarily for zonal architectures.
The company said that Stellar is designed for delivering fully synchronized operations and secure over-the-air system software upgrades for software-defined vehicles fully driven by electronics systems.
Stellar P6 samples are available now for model-year 2024 vehicles. To learn more, visit ST Microelectronics.