Cable design is probably not the first thing that comes to mind for engineers developing test systems — in fact, as noted by Keith Moore, CEO of Pickering Interfaces, it's probably the "last challenge considered." Yet proper cabling is a key driver of time-to-market for products being tested, and the selection of the right connectors and cables for a test setup can require significant expenditures of both time and money.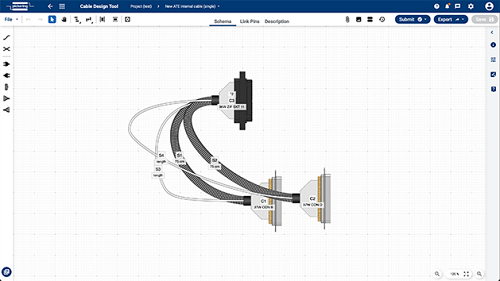 Just one example of the graphical design possibilities for custom cable assemblies using the Cable Design Tool. Source: Pickering Interfaces Ltd.Pickering has an answer in its Cable Design Tool, or CDT. Free to use, the tool allows test engineers daunted by the challenge of researching wires and connectors to graphically design custom cable assemblies. Designs can be based on Pickering's built-in library of standard cable sets, or they can be created from scratch. Very detailed characteristics can also be built into designs, including connector types, wire type, pin definitions, cable bundling, sleeving and other characteristics. Once completed, users can send their designs to Pickering's connection division — or to any cable supplier — for manufacture.
The tool was first introduced six years ago; the company recently announced a significant upgrade that features a similar look and feel to the original, while also incorporating new features based on user feedback.
One new feature is the Project Manager, which enables designs to be organized in a project folder structure. Folders can then be shared with other users, providing access to project communications, attachments, history and other functions. New security-level control features also enable designs to be shared in view-only mode or locked. New collaborative features allow messages to be sent and received within the tool, both to other users and to Pickering's engineers. That can translate to improved workflow and support for the approval process; changes can be traced, with all communications on the design kept in one place.
Another feature worth noting is that users who get stuck can submit a semi-completed assembly to Pickering, where engineers can guide them through the design process.
The CDT allows designs to be exported to a datasheet PDF with manufacturing documentation for cable assembly, including product visualization, bill of materials (BOM), pinouts and other specifications.
Did we mention that it was free to use? Heck, building custom cable assemblies just for fun might become your new favorite pastime. You can give it a spin here.