A new family of modular, flexible PXI/PXIe microwave switches that made its debut at IEEE Autotestcon 2023, held in August near Washington, D.C., is aimed at supporting the latest and most demanding radio frequency (RF) and communications test requirements as operating frequencies continue to evolve.
According to modular signal switching and simulation solution provider Pickering Interfaces, the new 4x-890 range is ideal for test environments requiring high-frequency microwave switching. These include radar, satellite and short-range land-based secure communications as well as consumer electronics and 5G infrastructure.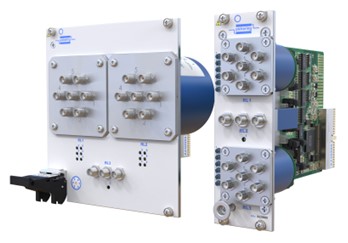 The new 4x-890 modular microwave switch family enables RF test engineers to create bespoke solutions tailored to specific application requirements. Source: Pickering InterfacesThe key selling point here is configurability. With a full range of SPDT, SPnT and transfer switch types available in PXI/PXIe — offering terminated or unterminated ports at frequencies up to 110 GHz and options available in 50 Ω or 75 Ω impedance — the new switches enable RF test engineers to specify combinations and topologies of relays to create bespoke solutions tailored to specific application requirements.
The flexibility of the 4x-890 range also allows it to break out of the multiplexer (MUX) limitations imposed by dedicated switches. For example, by combining two SP6T terminated and one SPDT relay, users can — with the addition of linking cables — create an SP12T terminated MUX rated to frequencies exceeding 18 GHz. A range of predefined solutions is offered to illustrate the possibilities.
Each relay fitted to a 4x-890 module has associated front-panel LED indicators to show the current energized path, providing visual confirmation for verifying system operation and simplifying the debugging of test application software. On-board relay counting is also offered, allowing the quantity of switching operations to be monitored as part of a test system predictive maintenance process. Relay types can be quickly replaced by withdrawing them through the front panel, facilitating rapid in-field repair.
Test engineers can configure front-panel layouts for the 4x-890 family using Pickering's web-based Microwave Switch Design Tool (MSDT) before submitting their designs to Pickering for production. Panel size, relay types, LED indicators, cooling slots, images and labeling can all be selected, added to the panel and positioned as required. Pickering assigns specific part numbers to custom builds to provide traceability and support the reorder process.
As Pickering's switching product manager Steve Edwards explained: "This new PXI/PXIe family allows RF test engineers to select from and combine a wide range of high-performance microwave relay types to suit their exact application requirements."