Critical Communications
TechInsights Teardown: Huawei P50 Pocket smartphone
30 August 2022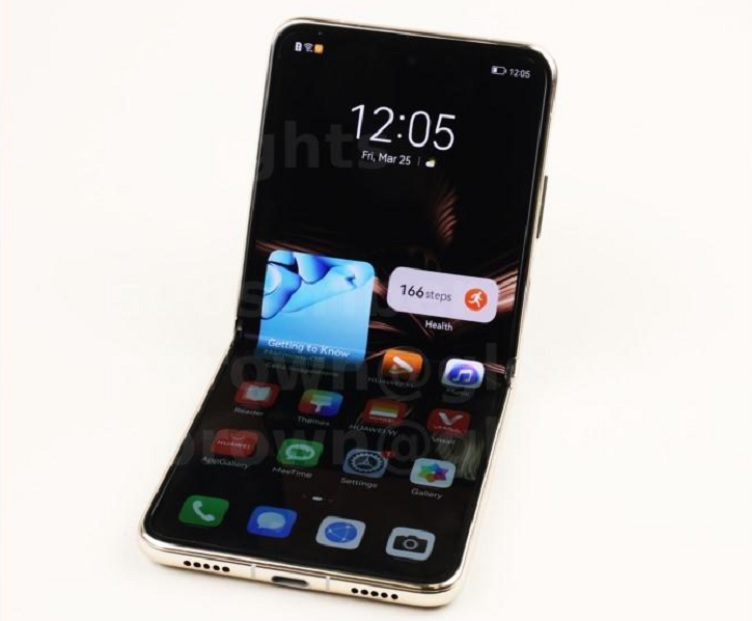 Flip phones have been around since the early days of mobile handsets. While they have fallen out of favor with most consumers that now prefer larger screen OLEDs with all the bells and whistles, Huawei is looking to bring the form factor back into fashion with its P50 Pocket BAL-AL00 smartphone.
The main difference with the P50 Pocket smartphone is that it includes the same electronic components of similar smartphones including an OLED touchscreen and Qualcomm Snapdragon applications/baseband processor. It also includes a slew of main memory from 12 GB mobile LPDDR5 SDRAM and 512 GB of 3D NAND flash.
And the smartphone flips to a small enough form factor to fit inside most pockets. While it may take a while to regain consumer interest in smartphones having the power and similar components of other smartphones integrated into a new flip phone may be a good starting point.
The following is a partial deep dive into the Huawei P50 Pocket smartphone performed by TechInsights.
Summary points
6.9 inch OLED w/ touchscreen
1.45 inch OLED
12 GB mobile LPDDR5 SDRAM
Target market: Telecommunications
Released: December 2021
Pricing: $1,699
Availability: China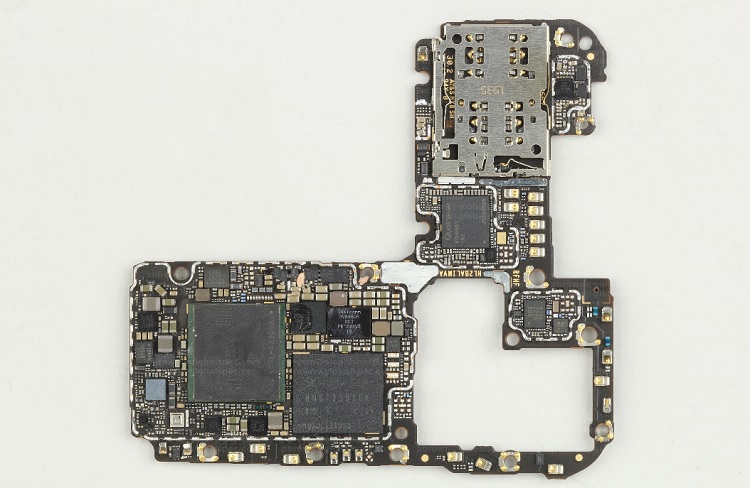 The main board inside the P50 Pocket smartphone includes the Qualcomm Snapdragon 888 applications/baseboard processor and the multichip memory subsystems from SK Hynix. Source: TechInsights
Main board
At the heart of the P50 Pocket smartphone is the main board that contains the main applications/baseband processor (Qualcomm's octo-core Snapdragon 888) as well as a pair of multichip memory from SK Hynix (512 GB of 3D NAND flash and 12 GB mobile LPDDR4 SDRAM). However, there are many other electronic components on the board including:
Power management ICs from Qualcomm
Audio amplifiers from Goodix
NFC and secure element chip from NXP Semiconductors
RF switches and antenna tuner from Qorvo
Digital barometric pressure sensor from Bosch Sensortec
Six-axis MEMS gyroscope and accelerometer from TDK InvenSense
RichTek's AMOLED display power supply
(Learn more about RF semiconductors on Globalspec.com)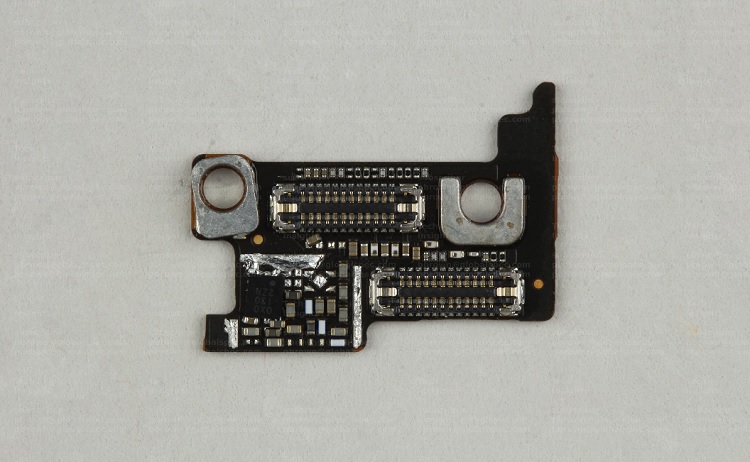 The interconnect board inside the Huawei P50 smartphone features the power management and interconnects to bridge the four cameras to the main board. Source: TechInsights
Interconnect board
The interconnect board of the Huawei P50 pocket smartphone is the board that bridges the cameras to the main board and includes the Qualcomm camera power management IC.
(Learn more about power management ICs on Globalspec.com)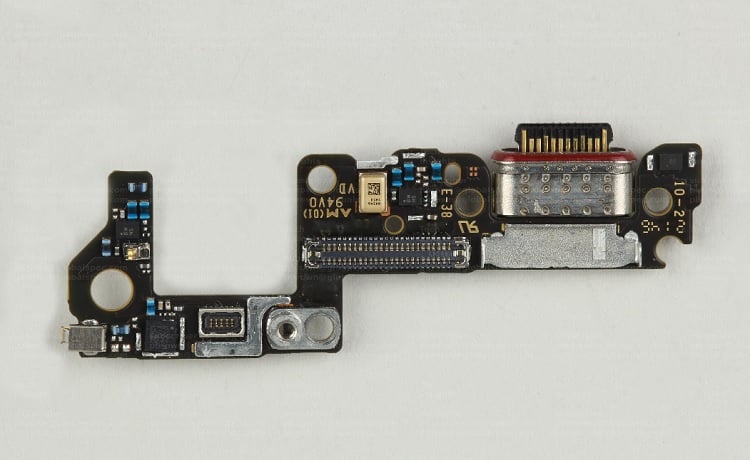 The USB board inside the P50 smartphone includes a variety of MEMS as well as the interconnects or recharging and connecting to external systems. Source: TechInsights
USB board
The USB board is the control for the connections for the smartphone as well as the sensors for the smartphone. Included on the board are:
ST Microelectronics' three-axis MEMS accelerometer
MEMS microphone from GoerTek
Maxscend's RF antenna tuner
Qorvo's RF antenna tuner
(Learn more about MEMS on Globalspec.com)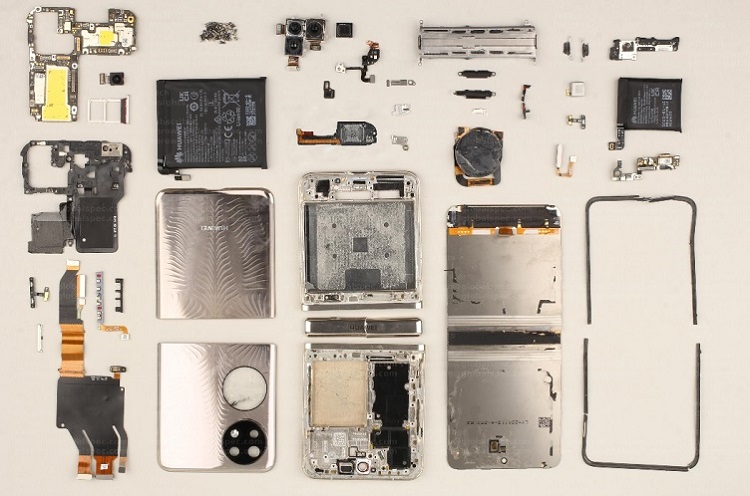 All the electronic components included in Huawei's P50 Pocket BAL-AL00 smartphone. Source: TechInsights
Major components
$123.48 — Octa-core Snapdragon 888 applications/baseband processor — Qualcomm (QTY: 1)
$85.54 — 120 Hz main display/touchscreen subsystem (QTY: 1)
$52.82 — Multichip memory — 512 GB 3D NAND flash memory controller — SK Hynix (QTY: 1)
$43.91 — Multichip memory — 12 GB mobile LPDDR4 SDRAM — SK Hynix (QTY: 1)
$35.32 — 40 megapixel true-chrome read camera subsystem — O-Film (QTY: 1)
$27.10 — 32-megapixel ultra-spectrum rear camera subsystem — O-Film (QTY: 1)
$17.35 — 13-megapixel ultra-wide/angle rear camera subsystem — O-Film (QTY: 1)
$13.94 — 10.7-megapixel ultra-wide front camera subsystem (QTY: 1)
$11.86 — Wi-Fi 802.11 a/b/gln/ac/ax Bluetooth 5.2 — Qualcomm (QTY: 1)
$11.21 — 60 Hz secondary display/touchscreen subsystem — BOE (QTY: 1)

Find Free Electronics Datasheets