With the release of Robustel's first generation 5G Industrial Gateway R5020 in 2020, the company has seen a massive global trend in customers relying on cloud internet of things (IoT) infrastructure to deliver a variety of IoT solutions across all verticals. However, there is a growing subsector of customers with demand for more processing being performed at the network edge, to avoid unnecessary network noise and congestion from high volumes of data being streamed over the cellular network.

The requirement for edge/fog processing sees a need for new generation devices, boasting the cutting-edge network connectivity and management features customers have come to know from Robustel devices but with the inclusion of much higher levels of onboard smarts and processing combined with a more versatile and scalable operating system.

This is where the Edge Gateway series from Robustel hopes to revolutionize the industrial computer and router market by providing products that are not only available at a mass market price point but that also offer specifications and features that customers desperately need.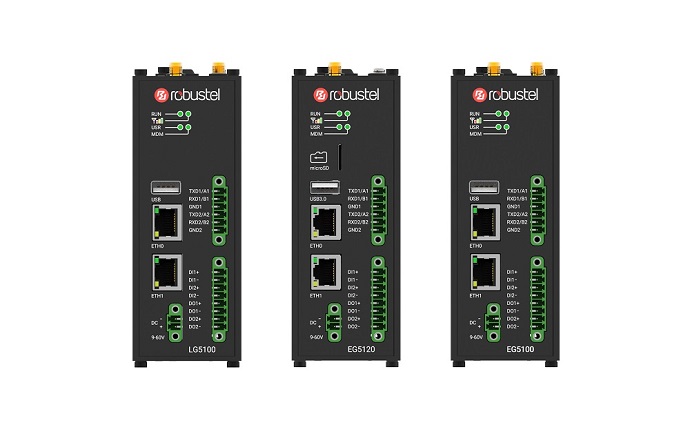 Source: Robustel

"Traditionally the industrial edge IoT market has been the domain of two very distinct solutions," said Robustel global senior vice president of sales and product marketing Desmond Kuang. "We have seen customers unable to scale successfully because they are either buying a solution that is completely over specified for their requirements or they are trying to build their own solution with an industrial PC + router combination that adds an additional point of failure. Our Edge Gateway products are designed to solve both market issues in a single elegant solution."
The Edge Gateway series from Robustel will initially launch with three product lines:

-The EG5100 — Industrial edge router with global 4G/LTE connectivity
-The EG5120 — Industrial router with global 5G connectivity (3GPP Release 16) and 2.3 TOPS NPU to support artificial intelligence (AI) applications
-The LG5100 — An industrial LoRaWAN edge gateway with global 4G/LTE Backhaul

To support the new hardware, Robustel is releasing a new version of its popular Linux-based operating system RobustOS, called RobustOS Pro. This new operating system offers customers a Linux Debian11 (Bullseye) environment with support for Docker-based applications. This move to a broadly adopted platform allows Robustel customers to rapidly develop, test and deploy new applications in whatever language they are comfortable developing in, and provides access to over 50,000 existing applications in the Debian repository.

With these products Robustel hopes to enable adoption in cutting edge IoT applications including robotics, smart cities, automated/autonomous vehicles, camera-based image recognition and real-time energy and grid management.
Samples of Robustel's Edge Gateway series are available now for proof of concept and design work from any of Robustel's global distribution partners with mass market availability planned for Q4 2022.