Bots walking the so-called beat may seem like the stuff of science fiction, but the compounding of emerging technologies is making them an almost daily reality. As such, a range of robots capable of everything from guarding historical sites to securing borders and performing surveillance has been introduced, automating tasks usually performed by human law enforcement personnel, thus freeing up agents to perform more valuable tasks while also keeping them safe from potentially dangerous environments.
Follow along with Electronics360 for a two-part summary of the robots to emerge that are designed to take on tasks in the law enforcement sector.
Border security
The U.S. Department of Homeland Security (DHS) is deploying autonomous robot dogs to the southwest border — a location rife with criminal activity such as human, drug and weapons smuggling.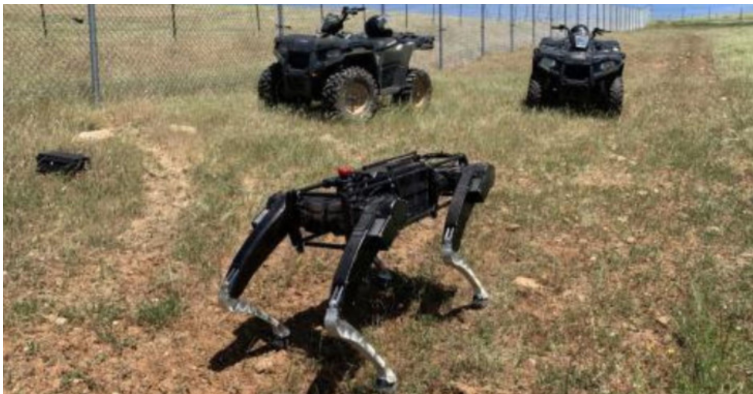 Source: DHS
The Science and Technology Directorate (S&T), the R&D arm of the DHS, is working in conjunction with the robotics firm Ghost Robotics to deploy the automated surveillance robot dogs to the border under the U.S. Customs and Border Protection (CBP) agency.
The 100 lb quadruped robots are capable of traversing assorted terrain including sand, rocks, hills and even stairs. Additionally, the robot dogs are easily linked to artificial intelligence (AI) and military equipment.
Automating border security will reportedly alleviate the burden on human border agents and officers, according to the DHS.
Throwable bots
Belgium-based Sky-Hero has developed a throwable reconnaissance robot for collecting and transmitting real-time audio and video intelligence.
The so-called SIGYN Mk1 Recon System was developed for military and law enforcement applications, according to its maker.
Designed to clear out rooms and explore potentially dangerous situations ahead of human soldiers or police officers, the four-wheeled ground robot is remote controlled and can navigate under obstacles such as cars, gates, barricades and through windows and doors.
Capable of traveling at 3.8 mph and weighing just 4.4 lb, the SIGYN Mk1 Recon System uses an encrypted signal to communicate with its operator.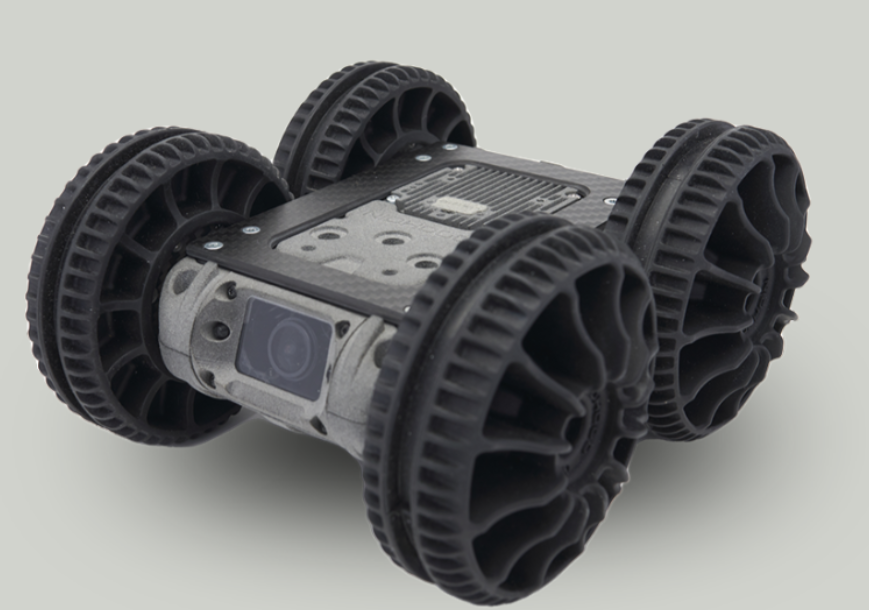 Source: Sky Hero
Using its onboard cameras, sensors and LED lights, the SIGYN Mk1 Recon System can explore a room, obtain information and report that real-time intelligence to soldiers or police officers located remotely without risking their lives.
To see the SIGYN Mk1 Recon System in action, watch the accompanying video that appears courtesy of Sky-Hero.
Target-practice robots
Marines at North Carolina's Marine Corps Base Camp Lejeune are improving their lethality and the accuracy of law enforcement agents by using robots for shooting practice.
The fifth-generation robots, manufactured by Australia-based Marathon Targets, are realistic moving targets that feature a mannequin-like body traveling on a four-wheeled Segway-like chassis.
Capable of immediately scattering when gunfire erupts, the robots are outfitted with lidar for navigation and collision avoidance. Additionally, the robots feature speakers that emit shrieking and grunting sound effects when hit by gunfire on the range. Once the robot is hit, it can fold and fall over, mimicking wounded humans.
According to previous studies of the technology, the robots improved soldier combat accuracy and moving target hit rates dramatically, with the developers explaining that this training better mimics conditions on the battlefield than those encountered on a standard shooting range.
To see the target-practice robots, which are designed for both soldiers and law enforcement training applications, watch the accompanying video that appears courtesy of Marathon Technologies.
On the prowl
Robots developed under the Home Team Science and Technology Agency (HTX) — Singapore's statutory board under the Ministry of Home Affairs designed to create science and technology capabilities for the country — are patrolling the streets of Singapore in search of bad behavior.
The autonomous patrol robots, called Xavier, patrol the streets of Singapore, searching for people engaged in "undesirable social behaviors" as part of a government trial of the technology.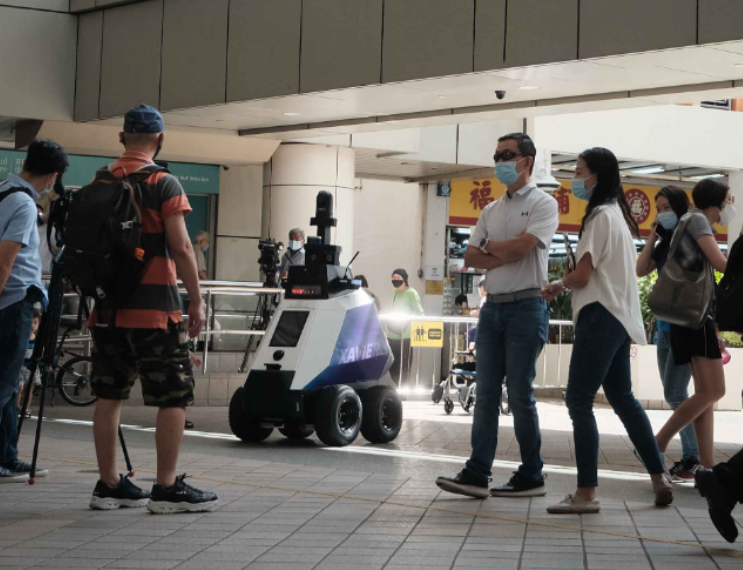 Source: HTX
To accomplish this, the Xavier robots feature cameras capable of providing 360° footage and sensors for navigating among people and other obstacles, and analyzing behaviors.
Among those behaviors the Xavier robots are programmed to detect are smoking in prohibited locations, illegal sales, improper bike parking and motorcycles parked illegally on sidewalks.
Once those behaviors are detected and analyzed, Xavier alerts a law enforcement control center and officers either respond in person or remotely via Xavier's interactive dashboard.
The robot patrols are expected to reduce the load on law enforcement agents by automating physical patrols.
Check back with Electronics360 for the second part of Bots on the beat.