Today's smart manufacturing sector is undergoing a digital transformation addressing the challenge of reducing manual processes and increasing efficiency. 5G is foreseen as a key enabler for the Industry 4.0 manufacturing ecosystem, and the 5G-SMART initiative launched by the European Union will demonstrate, validate and evaluate the potential of 5G in real manufacturing environments.
At three different trial sites, 5G-SMART will test most advanced 5G integrated manufacturing applications such as digital twins, industrial robotics and machine vision based remote operations. The trial sites are: An Ericsson factory in Kista (Sweden), a Fraunhofer IPT shop floor in Aachen (Germany) and a Bosch semiconductor factory in Reutlingen (Germany).
Marposs contributed its expertise in machine and process monitoring to the project facilities, and designed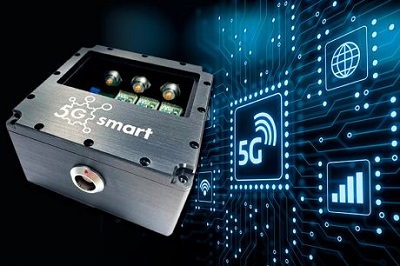 Source: Marposs and built the equipment for the first real 5G trials in manufacturing at the Fraunhofer IPT premises. In a research collaboration effort with the cellular devices provider U-blox, an industry-first 5G enabled multi-sensor platform was tested and Marposs Monitoring Solutions showcased a Virtual GEM processing platform deployed in a Factory Cloud.
Marposs also leveraged its industry knowledge of the manufacturing ecosystem in the evaluation of new business models with information and communications technology leaders such as Orange (France) and T-Systems (Hungary). The potential for factory owners, operational technology suppliers and mobile network operators was clearly defined.
During the project and the trials, 5G-SMART went beyond and explored new 5G features targeting the needs of the smart factory, like the integration of 5G with time-sensitive networking and critical cloud platforms, enabling flexible software development while providing low latency and high reliability.