The Texas Department of Transportation (TxDOT) has revealed its five-year plan to install a network of electric vehicle (EV) charging stations throughout the state via funding from the Infrastructure Investment and Jobs Act.
Texas will be given an estimated $408 million over the next five years for the purpose of expanding its EV charging network.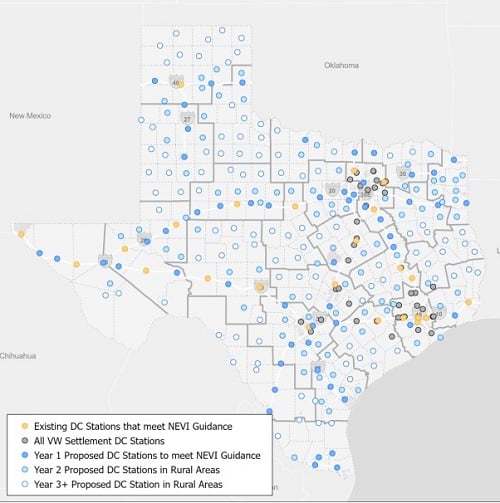 The EV charging stations across the state of Texas that are planned for the next five years. Source: TxDOT The statewide EV plan for Texas includes a 50-mile spacing for DC fast chargers along interstate corridors, rated at 150 kW. Off corridors would space the EV charging stations at 70 miles apart, mostly in rural counties due to distances between population centers and the electrical supply lines.
Large urban areas will use a combination of DC and Level II charging across respective areas. TxDOT will mix the chargers based on equipment cost, access to power, community identified needs and how long a vehicle is parked.
1 million EVs
The goal is to support 1 million EVs with dozens of new stations to allow for easier long-distance travel and to encourage adoption of EVs as the automotive industry transitions to all-electric models in the next 10 to 15 years.
Currently, there are 129,010 EVs registered in the state of Texas, which only constitute less than 1% of all vehicles registered in the state.
"However, since 2020, the total number of electric vehicles across Texas has nearly tripled as more people adopt the technology," TxDOT said. "With rapidly growing adoption rates, it is necessary to ensure Texas will be able to meet the demand of these new vehicles on the road."
The Electric Reliability Council of Texas (ERCOT) estimates there will be 1 million EVs on the road in Texas by 2028 while the Texas DMV estimates Texas will reach 1 million EVs by 2031.
Jobs act
Last year, the Biden Administration signed the Infrastructure Investment and Jobs Act after Congress approved it and it includes investment in bridges, freeways, EV charging and other means of transportation. The act sets aside $5 billion for states to build a national network of charging stations. President Biden set goals to help the automotive industry transition to electrification that is slated to happen in the 2035 to 2040 time frame, if not before.
Biden wants to add 500,000 EV charging stations nationally and has started to electrify the U.S. government fleet of 650,000 vehicles over the next decade.