Fisnar, an Ellsworth Adhesives company, is replacing the VC1195N and other legacy model valve controllers with the new, compact VC300 pneumatic valve controller.
The VC300 is a sophisticated controller able to control the operation of pneumatic dispensing valves containing spring return or air actuated closing actions. The internal high speed 5/2 way pneumatic solenoid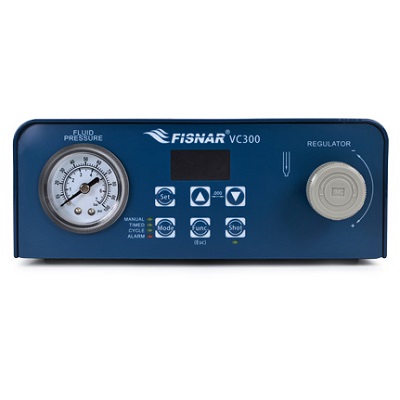 Source: Ellsworth Adhesives valve is able to rapidly actuate and shut off the dispense valve to prevent drooling, and achieve consistent and repeatable dispense results while doing so.
An integrated pressure regulator and gauge offer a key benefit in allowing control of both dispense valve actuation and the setting of the fluid pressure supplied to the dispense valve, resulting in a simple and compact valve system setup.
Manual, timed and cycle dispense modes are supported in a controller featuring one programmable memory slot, a bright multi-line LED display screen for easy visualization of all dispense parameters, and a seven-channel I/O circuit for external control and robot integration.