A bioelectronic pacifier can be used to eliminate the blood draws needed to monitor the electrolyte levels of infants in Newborn Intensive Care Units (NICUs). The non-invasive device can provide real-time data on sodium and potassium ion levels to signal potential dehydration risk in premature patients.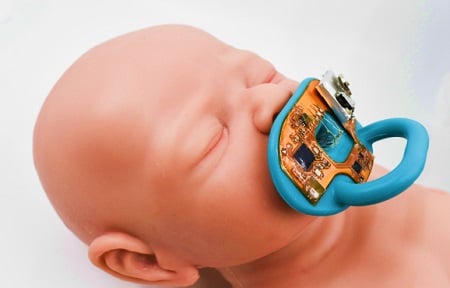 A wireless bioelectronic pacifier could eliminate the need for invasive blood draws. Source: Washington State UniversityResearchers adapted a commercially available pacifier to sample the infant's saliva via microfluidic channels, which are equipped with sensors that measure sodium and potassium ion concentrations. Caregivers receive this data wirelessly through Bluetooth.
When tested on a cohort of infants in a hospital, the results from the smart pacifier described in Biosensors and Bioelectronics were comparable to data delivered via routine blood draws in NICU settings. Scientists from Pukyong National University (Republic of Korea), Yonsei University College of Medicine (Republic of Korea), Washington State University, Georgia Institute of Technology and Wichita State University will next focus on rendering the components more affordable and recyclable.