Jaundice affects about 60 percent of newborns and can cause brain damage or even death if left untreated. In sub-Saharan Africa, where doctors often don't have access to expensive diagnostic equipment, babies are 100 times more likely to die of the condition than are infants in the U.S. A new low-cost device could drastically reduce that number.
The handheld battery-powered device developed by a Rice University initiative quantifies bilirubin levels from a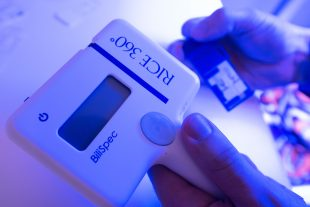 BiliSpec is a low-cost, battery-powered reader designed to diagnose jaundice by immediately quantifying serum bilirubin levels from a small drop of whole blood. Source: Jeff Fitlow/Rice Universitydrop of blood within about two minutes. A clinical trial conducted in Malawi demonstrated that the BiliSpec tool delivers accuracy comparable to the more expensive laboratory tests found in high-resource settings. Each BiliSpec assay costs about 5 cents and can be performed at the patient's bedside.
A drop of whole blood from a heel prick is placed onto an inexpensive, disposable lateral flow strip. The reader then displays a digital report of the bilirubin concentration by measuring the light transmitted through the serum on the detection strip.
BiliSpec is one component of a 17-piece neonatal package called NEST, short for Newborn Essential Solutions and Technologies designed specifically for African hospitals.
"The next step is a larger, two-year follow-up study of efficacy and usability that will be conducted at five hospitals in Malawi," said Pelham Keahey, an applied physics graduate student. The university won funding for the follow-up study from Saving Lives at Birth, a joint undertaking by the U.S. Agency for International Development (USAID), the Bill & Melinda Gates Foundation and the governments of Norway, Canada and South Korea.
Results of the clinical study are published in the Proceedings of the National Academy of Sciences.