Coastal Machine & Supply, a Carencro, Louisiana-based manufacturer of precision, custom-machined parts for the oil and gas industry, has used its investment in a Keyence WM series wide-area coordinate measuring machine (CMM) to help it diversify into the aerospace market. In particular, the CMM simplifies the extensive geometric dimensioning and tolerancing (GD&T) requirements associated with the machining of aerospace components.
"While we've always served the oil and gas industry, over the past two years we've consciously been diversifying into other markets, including aerospace and defense, largely due to the Covid-19 pandemic and how it affected the oil and gas sector," explained operations manager Kody Guidry.

A traditional part of Coastal Machine's business is the production of long downhole oil and gas parts, some of which can be up to 240 inches (6 m) long.

"Historically, we measured the overall length of these components using a tape measure or by stacking up scales," explained Guidry. "However, for one contract we sent some parts to a premium threading shop and they were using a Keyence WM series wide-area CMM, which immediately sparked our interest."
Coastal Machine duly contacted Keyence for a demonstration at the company's Carencro headquarters.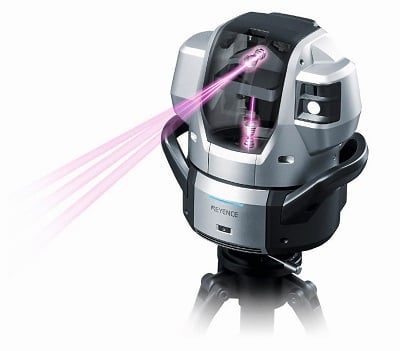 Source: Keyence
With its large 10 m (32.8 ft) measuring range, the Keyence WM series wide-area CMM is a far better option for large parts than a CMM arm, bridge CMM, laser tracker or hand tools, all of which suffer from restricted measurement area, the requirement for highly trained operators and difficulty in allowing single-person inspection. Maintenance costs can also be high.

The shop-floor-ready, portable WM series performs precision measurement via its triple-camera tracking system that captures near-infrared light emitted by seven probe markers. As a result, users benefit from a high-accuracy of ±28 μm (±0.001 inch), even over a large area. The WM Series offers ease-of-use as the wireless probe allows for part measurement without restrictions, while the probe's touchscreen facilitates the same operations that were previously performed on a separate computer. Low cost of ownership is another advantage as the device performs self-calibration before measurement, so there are no costs for training, support or ongoing maintenance.
Although the checking of long components for the oil and gas sector was Coastal Machine's original requirement for the Keyence WM, the CMM's capability and versatility led to the company finding further uses for the device.
"It helped us to accelerate our diversification into the aerospace market as we didn't have a CMM previously," stated Guidry. "Today, the primary use for our WM is performing GD&T measurements on aerospace parts. The system is ideal for GD&T inspection, even while the component remains in the machine tool."

As the aerospace and defense industry grows, Coastal Machine is able to position its expertise and equipment in a way that helps to fulfill the needs of the sector and give value to clients, while simultaneously forming part of the next frontier of design and manufacturing.
The wide-area CMM recently saved Coastal Machine the cost and time of remanufacturing parts that one customer claimed were incorrect.

"We sent some long oil industry parts to a client who checked them with scales and tried to refuse them, stating they were out of tolerance," explained Guidry. "So we double-checked them with our Keyence WM, which confirmed the parts as correct. The customer conceded to our superior measurement technology and passed them through."