Business Process Solutions
TechInsights Teardown: ASUS ROG Rapture GT-AXE11000 router
27 May 2022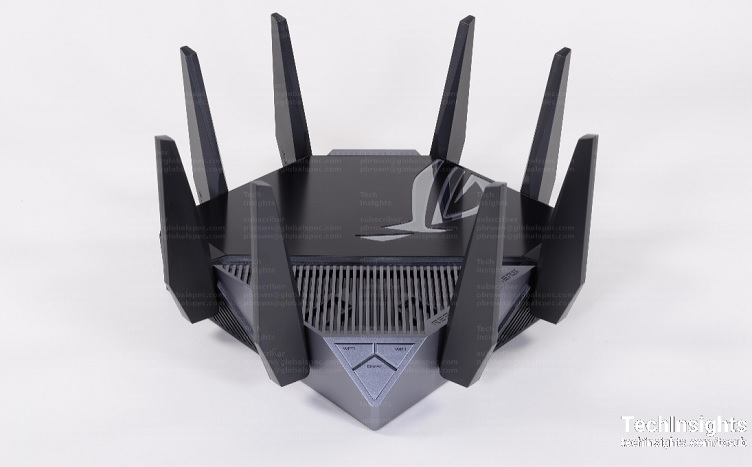 Routers are essential for any internet connections inside the home, whether it be for gaming, work or operating entertainment systems or smart home devices.
ASUS has been in the business of creating routers specifically for gaming for years and this iteration of its ROG Rapture GT-AXE-11000 router includes many gaming-friendly options that help prioritize internet traffic.
It looks like a crazy crown that was fashioned in an old forge for a power-hungry king, but with eight deployable antennas the router allows for greater pickup ranges for Wi-Fi. In addition to an application specific network communications processor, 256 MB of NAND memory and 1 GB of DDR3 SDRAM power the device.
It also features a WAN port, four 1 GB Ethernet ports and a 2.5 GB Ethernet port as well as a pair of USB 3.1 ports for adding networked storage.
The following is a partial deep dive into the router conducted by TechInsights.
Summary points
1 GB DDR SDRAM
Three times Wi-Fi residential access point chip
Network communications processor
Target market: Gaming
Released: March 2021
Pricing: $506
Availability: Global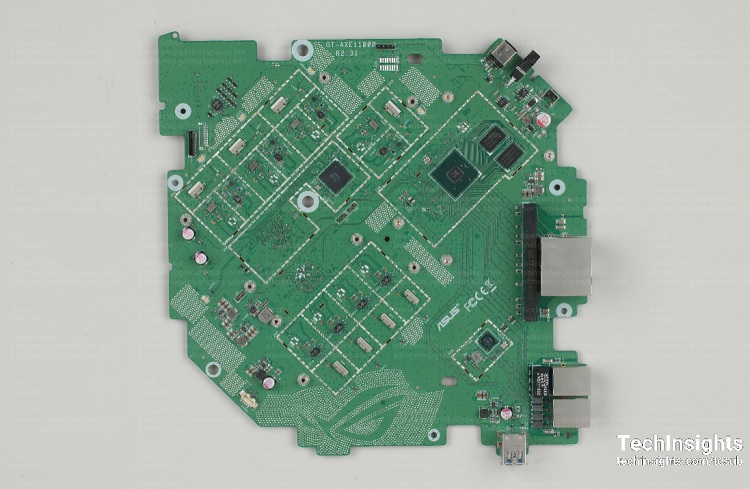 The main board of the ROG Rapture router contains the main processing engine, Wi-Fi engine, main memory and controls for the entire system. Source: TechInsights
Main board
The main board of the ASUS ROG Rapture router is the heart and brains of the device, containing all the components necessary for operation. Specifically, the board houses the three 4x4 802.11ac Wi-Fi residential access point chips from Broadcom and the network communications processor, also from Broadcom.
However, also contained are the DDR3 SDRAM memory from Nanya, SLC NAND flash memory from Macronix and front-end modules from Skyworks. Other components include:
Slap down DC-DC converter from M3TEK
Two-input positive-NAND gate from Texas Instruments
A synchronous slap-down converter from Monolithic Power Systems
ESD protection from Amazing Microelectronic Corp.
LDO regulator and slap-down DC-DC converter from RichTek
Single inverter from Nexperia
(Learn more about DRAM on Globalspec.com)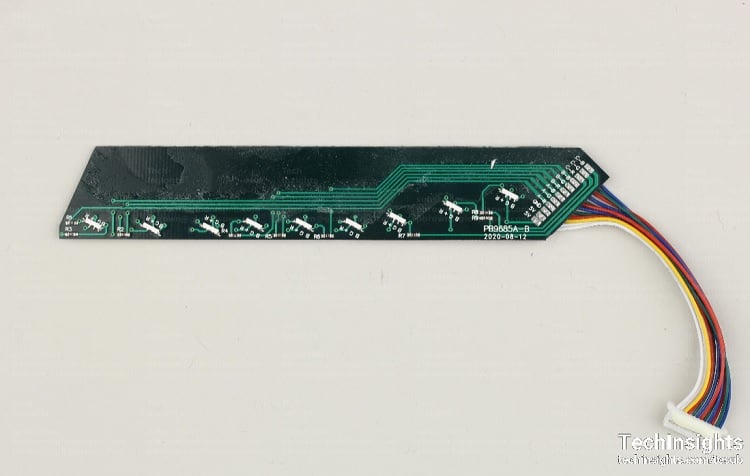 The LED board found inside the ASUS ROG Rapture router. Source: TechInsights
LED board
The LED board of the ASUS ROG Rapture router connects directly to the main board and functions as the alert functions for the router when powered up.
(Learn more about LEDs on Globalspec.com)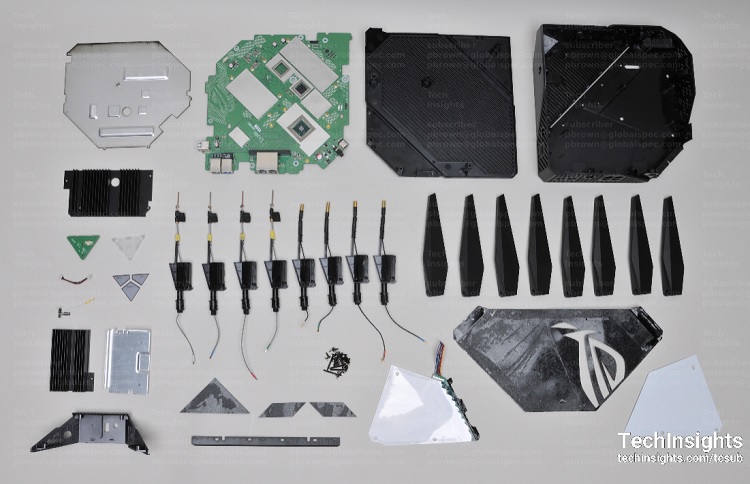 All the components found within the ASUS ROG Rapture router. Source: TechInsights
Major components:
$8.95 — 4x4 802.11ac Wi-Fi residential access point chip — Broadcom (Qty: 1)
$8.95 — 4x4 802.11ac Wi-Fi residential access point chip — Broadcom (Qty: 1)
$8.95 — 4x4 802.11ac Wi-Fi residential access point chip — Broadcom (Qty: 1)
$7.65 — Network communications processor — Broadcom (Qty: 1)
$7.44 — Antenna frame (Qty: 8)
$5.90 — Metal cover (Qty: 1)
$5.72 — Six-layer conventional FR4/HF — Hannistar board (Qty: 1)
$5.12 — DDR3 SDRAM memory — 512 MB — Nanya (Qty: 2)
$4.08 — Main frame (Qty: 1)
$4.00 — Antenna enclosure (Qty: 8)

Find Free Electronics Datasheets