In the field of military applications and for security companies, the increasing complexity of tasks is rapidly raising the requirements profile for the technology used. This applies in particular to the reliability and flexibility of the connector systems deployed.
Weight reduction, robustness, easy handling and fast cleaning can be life-decisive in extreme cases, as can the secure transmission of high data volumes. These performance requirements are met with the ODU AMC Series T — the T stands for triple. It offers three compatible locking variants on one device part, as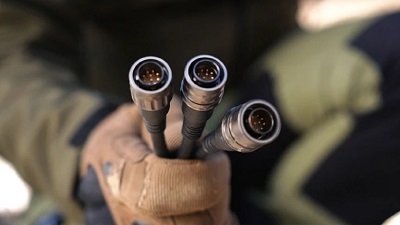 Source: ODU GmbH & Co. KG depending on the situation, the locking requirements are different.
The thread-lock function is especially suitable for applications that are subjected to extreme vibrations. The break-away function enables the connection to be released by manually applying force, allowing quick and easy disconnection in critical situations. The push-pull mechanism reliably locks inside the receptacle and the ball-lock system provides additional support to guarantee interference-free data transmission. The ODU AMC Series T combines all three locking variants — reducing the number of different interfaces across all systems and replacing them with a common interface.
Uniform receptacles also reduce the number of interfaces within a given system, especially for connections to subsystems such as cameras, sensors or weapon systems. In the event of damage, the additional locking options make it easier to maintain and assemble the respective systems in the field in an emergency.