Business Process Solutions
TechInsights Teardown: Lenovo ThinkPad X1 Fold laptop
15 April 2022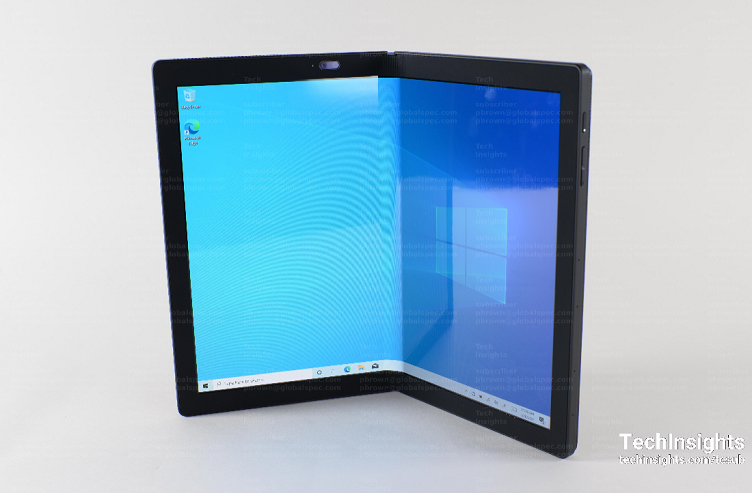 Foldable electronics are growing in number but remain a niche market overall.
Consumers are interested in the technology but the practicality of using foldable electronics is something that just hasn't caught on in waves.
While foldable smartphones have been in development for quite some time, including with the recently introduced Samsung Galaxy Z Fold 5G phone, foldable laptops and tablets are more rare.
However, there are some that are already on the market such as the Lenovo ThinkPad X1 Fold.
TechInsights recently did a teardown of the laptop to gauge what technology is being used to power the device as well as its 5G components and touchscreen display controls.
What follows is a partial dive into that teardown conducted by TechInsights.
Summary points
13.32-inch AMOLED, 2049-1536 pixels
8 GB LPDDR4x SDRAM
SSD
Intel 3GHz five-core, application processor
Target market: IT, consumer
Released: November 2020
Pricing: $2,499
Availability: Worldwide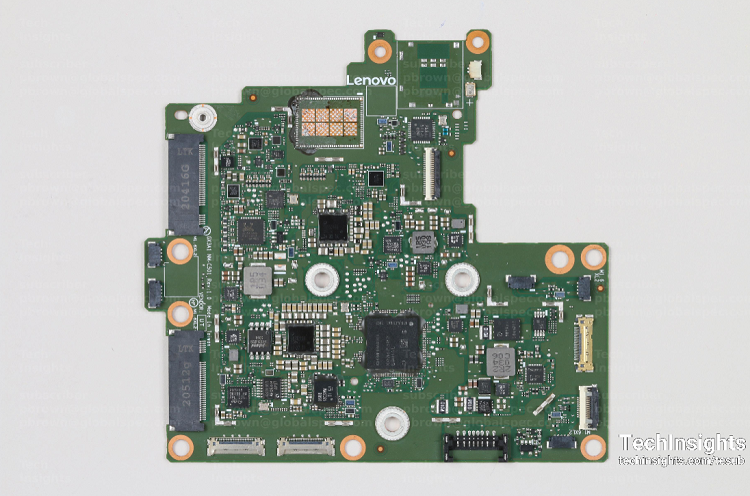 The main board of the Lenovo ThinkPad X1 Fold laptop contains the main processor from Intel as well as the 8GB SDRAM from SK Hynix. Source: TechInsights
Main board
The main board of the Lenovo ThinkPad X1 Fold houses the main brains of the tablet including the Intel 3 GHz five-core applications processor with platform controller hub and multichip 8GB mobile LPDDR4x SDRAM memory from SK Hynix. Other components on the board include:
ST Microelectronics' 32-bit Arm Cortex-M0 microcontroller
Texas Instruments' 8 A synchronous step-down voltage regulators, LVCMOS clock generator and USB Type-C SBU multiplexer
Realtek's audio amplifier with DSP and audio CODEC
NXP Semiconductors' USB PD and Type-C switch
USB signal switches from Diodes Inc.
Serial flash memory from Winbond
(Learn more about memory semiconductors on Globalspec.com.)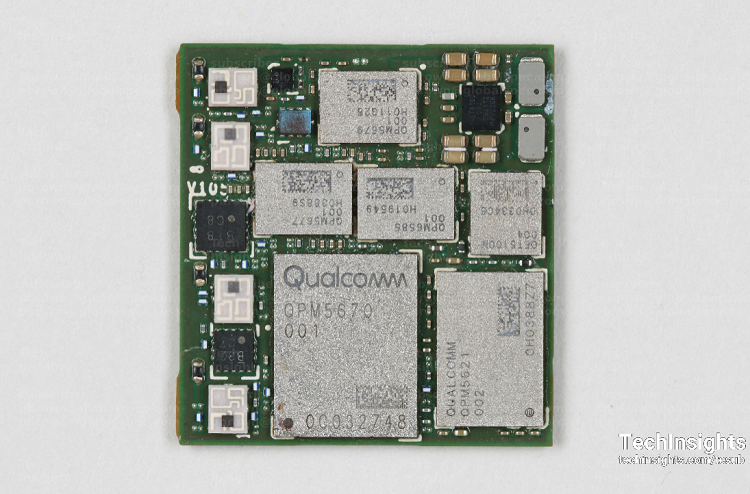 The 5G board inside the Lenovo ThinkPad X1 Fold laptop house the cellular technology to connect the laptop to the internet and includes major components from Qualcomm among others. Source: TechInsights
5G board
The 5G board houses the main communications technology that allows the ThinkPad X1 Fold to connect to the internet via cellular. The main components on the board are: 5G NR n79 front-end module from Qualcomm; 5G envelop power tracker from Qualcomm; LB front-end module from Qualcomm; a DP4T antenna switch and RF switch from Sony; RF switches from Qorvo; and a GPS/GLNSS LNA from Infineon.
(Learn more about RF chips on Globalspec.com.)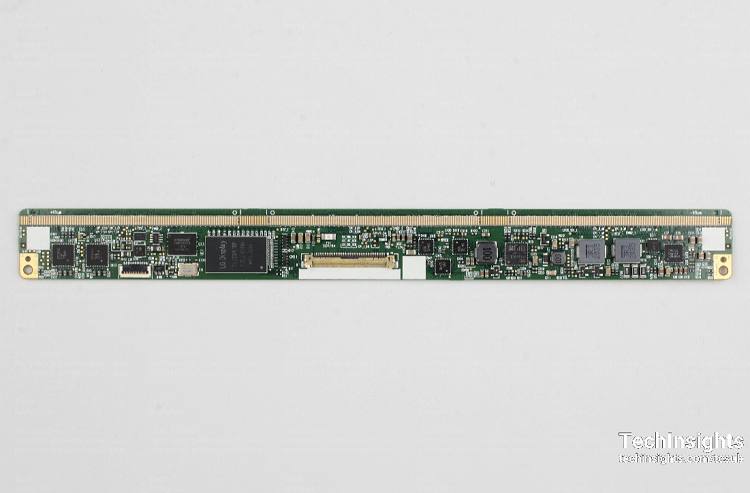 The display board of the Lenovo ThinkPad X1 Fold laptop controls the touchscreen display power controllers and more. Source: TechInsights
Display board
The touchscreen display is controlled from the display board inside the ThinkPad X1 Fold. The major components of the board include:
Semtech's eight-line ESD protection
Silicon Works' display power management
LG Display's timing controller with memory
TI's programmable-delay supervisory circuit and temperature sensor
ST Microelectronics' serial EEPROM memory
RichTek's dual 800 mA step-down converter
Winbond's serial flash memory
(Learn more about memory chips on Globalspec.com.)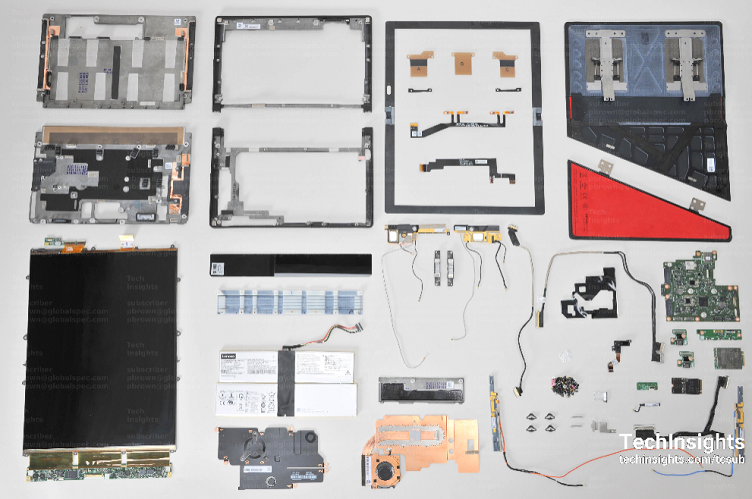 The major components of the ThinkPad X1 Fold including the housing, touchscreen, battery subsystem, SSD subsystem and more. Source: TechInsights
Major components
$235.10 — Display/touchscreen subsystem — LG Display (Qty: 1)
$166.57 — 3GHz five-core application processor — Intel (Qty: 1)
$100.78 — 5G subsystem — Foxconn (Qty: 1)
$47.32 — SSD subsystem — SK Hynix (Qty: 1)
$33.43 — Battery subsystem — Simpio Technology (Qty: 1)
$31.03 — Multichip memory — 8 GB mobile LPDDR4X SDRAM — SK Hynix (Qty: 1)
$16.21 — External enclosure (Qty: 1)
$7.90 — Wi-Fi/BT subsystem — Intel (Qty: 1)
$7.77 — 10-layer buildup FR4/HF — Unitech Printed Circuit Board (Qty: 1)
$7.74 — 5 MP front camera subsystem — Chicory Electronics (Qty: 1)

Find Free Electronics Datasheets