To enhance its services and enable even simpler access to its car parks, APCOA Parking, a leading European car park operator and provider of transportation services, developed a solution for ticket-less access.
It is based on a mobile app and cameras with onboard automatic license plate recognition (ALPR) from German/Austrian LPR solutions expert CARRIDA Technologies. The smart parking solution will be installed throughout the company's car parks in Europe and subsequently replace the currently used RFID-based system.
Parking services based on automatic license plate recognition
APCOA, which manages parking at over 9,500 locations in 13 European countries, developed APCOA Flow, a smartphone app to register license plates. It also provides features to search for car parks at the desired destination or near a user's position and includes payment options. This makes parking with the app ticket cashless and thus fast and easy. The heart of the APCOA Flow ecosystem is the CARRIDA Cam, a ready-to-use and standalone camera with onboard ALPR. It recognizes and reads license plates, processes the data internally and sends only the results to a connected internet of things device. The latter checks the license plate against a cloud server and registers entrance and exit of the vehicle. The barriers open automatically if a registered license plate is recognized.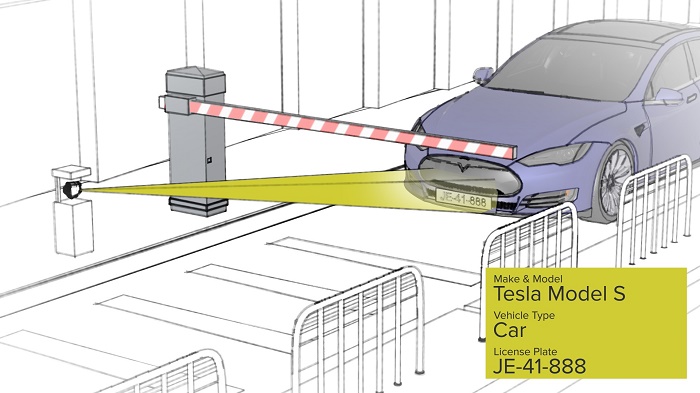 Source: CARRIDA Technologies 

Reliability tried and tested: Now coming to all locations
APCOA installed the first CARRIDA Cams at the new Berlin Brandenburg Airport in Germany. The system has proven its worth and reliability and has been deployed in further car parks throughout Germany as well as in facilities in Austria, Italy and Poland.
Andreas Henninger, head of digital infrastructure projects at APCOA Parking Holdings GmbH, said, "The ticket-free parking system with CARRIDA Cams has been widely approved by our customers. It will be installed in all of our companies 200+ facilities in Germany and many more locations internationally in the future. It will subsequently replace the existing systems with APCOA FLOW RFID-Chips."

Best reading rates in a compact design
The versatile CARRIDA Cam has been designed for stand-alone outdoor applications and offers best reading rates, even with difficult lighting situations. Henninger explained, "The CARRIDA Cam provides a reading accuracy greater 99.5%. We have chosen this model because of its small but robust design and its high image quality, fast processing time and onboard ALPR analysis. CARRIDA's supportive service and standing in the market further undermined our decision."
Encrypted data transmission ensures safe and secure parking services and the plug and play installation assures quick and easy system setup in car parks. With its small size, measuring only 91 mm x 62 mm, the camera can be easily integrated into existing systems for stationary as well as mobile applications. It is equipped with a high-end image sensor from SONY that ensures best possible image quality and first-class reading results, even under difficult lighting and weather conditions and with changing irradiation. The ultra-compact ANPR camera is protected against dirt, dust and moisture in accordance with IP67 and thus suitable for permanent outdoor use, thanks to the integrated heater.

Onboard LPR driven by the powerful CARRIDA SDK
System reliability and reading accuracy is based on the perfectly integrated CARRIDA SDK LPR-Engine. The versatile library recognizes license plates from all countries and also accepts special formats such as two-line license plates as well as damaged or bent license plates. The software runs hardware-independent on any edge device and can also be used with traditional IP-, USB- or GigE-cameras. Its fast processing time enables instant access to the car parks and it can also be deployed for other uses in the fields of traffic management, tolling, law-enforcement and smart cities. Depending on the hardware, it can provide make and model recognition and additional data, powered by the latest deep learning functionalities.