The main use for lidar, or light detection and ranging, will undoubtedly be in the automotive market as it will have the most volume by far. But that isn't stopping the use of the technology in other markets where 3D mapping that lidar affords can be valuable.
In fact, the installed base of lidar sensors outside of the automotive market is forecast to reach 16 million by 2030, according to ABI Research. Because the automotive market won't reach maturity in its use of lidar for many years to come, other verticals may be using lidar ahead of its mass inclusion in vehicles.
In 2021, use cases for lidar exploded as companies found the technology could be used to enhance robots, smart cities, indoor mapping, industrial verticals and the internet of things (IoT).
Lidar is a remote sensing method used to measure the distances of objects — rocks, a dog in the street, walls inside a building, curves in the road, the size of packages and more. Much like radar systems that employ radio waves to measure objects, lidar uses lasers to calculate the distance of objects and the light pulses from these lasers generate 3D information about those objects.
(Learn more about lidar on GlobalSpec)
In smart cities
Lidar is quickly becoming a key technology for smart city infrastructure deployment. In 2021, the market saw many companies developing lidar for traffic monitoring, such as the trial by Quanery with Parifex in France.
Velodyne also began a project this year to test traffic monitoring and safety on city streets by installing the sensors on traffic lights.
Other uses for lidar in smart cities have been testing pedestrian monitoring to help municipalities discover high foot traffic locations that could benefit city planning of new bridges or sidewalks.
Quanergy Systems launched a project in the city of Busan, South Korea, to enable data-driven IoT solutions that will collect traffic volume data and the number of speeding vehicles.
Security is also something that lidar is being used for in smart cities to provide real-time detection, identification and tracking of people, vehicles and small animals. It could also be used to custom-alarm perimeters for government buildings or critical infrastructure.
Using lidar for urban planning is also becoming useful to create 3D models that can be used for disaster management recovery, city mapping, new building construction, updating city maps or detecting urban environment changes.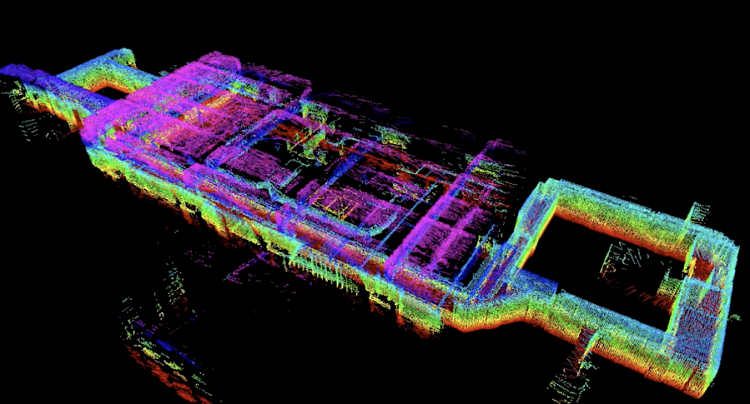 Formation gathered from lidar scanners for indoor 3D maps could be used to point emergency responders to critical locations such as emergency exits, fire extinguishers or utility shutoffs. Source: NIST
Indoors
Mapping of indoor areas is becoming another use for lidar where mapping the interior of buildings and other areas can help with planning infrastructure for office spaces or government facilities. Additionally, lidar can create a 3D map of a building for emergency personnel who may have to enter a burning a building or collapsed structure following a natural disaster to save lives.
The U.S. National Institute of Standards and Technology (NIST) has been working with emergency services and academia since 2018 to develop systems for using lidar to generate 3D maps of buildings under its Point Cloud City program. Under the program, scanning indoor structures in 3D was accomplished using a handheld lidar scanning device and could map an entire building in a few hours.
Outdoors
This year, lidar has been used for a variety of projects for outdoor environmental monitoring.
Burgex Mining integrated a gimballed Velodyne lidar sensor in its mining equipment to help simultaneous localization and mapping (SLAM) of underground and surface mining environments, a process that has traditionally been difficult to map using modern methods.
A Danish offshore artificial energy island project is using lidar floating on buoys to measure wind at two locations in the Danish Ocean. The lidar buoys act as hubs for connecting several offshore wind farms.
Northern Arizona University used lidar in a project to monitor forest ecology and ecological restoration. The research involved using mobile lidar scanners to provide detailed information bout forest structure and composition.
Just this month, a collaboration between Securitas France and Quanergy launched a remote mobile surveillance solution that integrates 3D lidar. The technology could be used to secure temporary and remote sites such as construction, storage areas, parking and more.
In robots
Multiple robots were integrated with lidar in 2021. Much like in self-driving cars, lidar in robots allows these machines to see the environment around it and helps with path planning and obstacle avoidance.
Iron Ox rolled out an agriculture robot that uses multiple lidar and computer vision to navigate to crops and lift modules of hydroponically fed plants throughout a greenhouse.
An autonomous robotic lawnmower was introduced this year by Renu Robotics that includes Velodyne's lidar sensors to provide navigation and avoid obstacles while cutting grass.
Industrial robots are also being integrated with lidar to deploy in warehouses and factories where the sensor can be used for 3D mapping, navigation and risk avoidance while enhancing efficiency and safety.
In drones
Drones had a banner year in 2021 with drone delivery and new projects testing how far these unmanned machines can travel. But one of the more interesting trends happening in 2021 was the inclusion of lidar on drones for survey work.
The Technical Research Centre of Finland (VTT) created a drone with lidar and integrated machine vision to improve perception by these unmanned aerial systems while inspecting deep sea oil rigs or pipelines or construction and mining.
Microdrones integrated lidar into its own drone system for surveying work. The goal is to capture data from a longer range is more efficient and safer than any human can do.
Conclusion
It was a big year for lidar being integrated into applications outside of vehicles and looking ahead to 2022 it is likely there will be more projects and applications using the technology for mapping, navigation and perception.
While lidar will see the most volume from the automotive sector, it will take some time for these automotive technologies to come to fruition. These other use cases for lidar can be developed and deployed right now and bring useful data to other verticals.