Single, solid-state defect research conducted by the University of Stuttgart's Physics Department focuses on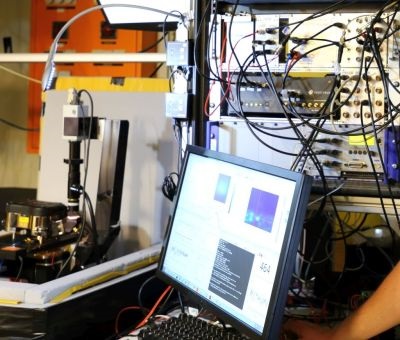 Source: Spectrumnitrogen-vacancy (NV) centers in diamond, which are formed by removing a carbon atom and replacing it with a nitrogen atom to form an NV pair. This technology is being developed for use in magnetic field detectors or a qubit in a quantum computer.
The NV center is manipulated with sequences of optical excitation, microwave and radiofrequency pulses. The requirement for producing extremely precise sequences of very short pulses is met by an arbitrary waveform generator (AWG) from Spectrum. The DN2.663-04 generatorNETBOX features the required ten output channels (four analog and six digital channels). Its modular design accommodates six digital marker channels in addition to the standard four analog channels. An internal daughterboard provides the extra connections in the stand-alone unit, which connects through Ethernet to a controlling PC.
The AWG controls the laser, the microwave signal using IQ modulation and generation of radiofrequency pulses while triggering data acquisition devices to determine the spin state. The researchers note that the AWG effectively runs their experiment thanks to its large number of output channels. A key factor in selecting the Spectrum AWG was speed, as the experiments depend on very short pulses down to between 10 to 20 nanoseconds. At 1.25 GS/s, it can control these with a high time resolution of 800 picoseconds.
Each channel of Spectrum's AWG has a 16-bit digital-to-analog converter (DAC) that can generate precise and flexible wave shapes with frequency content from DC to 400 MHz to emulate real-world signals. To allow the generation of long and complex waveforms, the AWG has a number of operating modes such as single-shot, loop, first-in first-out, gating and sequence replay. The AWG can even output signals while new waveform data is being sent to the on-board memory.