New automotive serializer/deserializer (SerDes) transmit and channel test applications, as well as an automotive adapter portfolio to verify mobile industry standards, have recently been announced by design and validation solutions provider Keysight Technologies.
SerDes interfaces are the technology behind in-vehicle video, audio and communication. High bandwidth, reliability and performance of SerDes serial links are key requirements in automotive applications enabling advanced infotainment and driver-assistance systems (ADAS).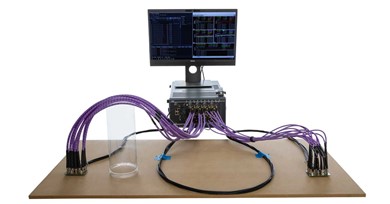 Keysight's recently announced automotive SerDes channel test solution covers MIPI A-PHY tests. Source: Reproduced with permission, courtesy of Keysight Technologies Inc.As automotive in-vehicle technologies increase in speed and bandwidth, test equipment vendors find themselves needing to adapt to changing standards. The two new applications — AE2010T for transmitter testing and AE2010L for channel testing — provide critical information to maintain data integrity and low loss networks, while also meeting current automotive SerDes specifications. Tests performed by the AE2010T automotive SerDes transmitter test application enable automatic configuration of results utilizing a Keysight Infiniium UXR-series oscilloscope, while tests performed by the AE2010L automotive SerDes channel test application enable automation of network analyzer tests.
The new applications were developed in collaboration with Sony Semiconductor Solutions Corporation. Keysight said the collaboration in the context of the industry's vision to bring standardized automotive SerDes to market. Such standardization could benefit chipset vendors and original equipment manufacturers (OEMs) with unified test results and requirements.
Keysight also worked with Rosenberger, an RF technology company headquartered in Germany, to offer industry-accepted adapters for automotive SerDes and high-speed data links.
Key benefits of the SerDes transmit and channel test applications include:
Automatic configuration and calibration cues of test equipment to reduce overall test time.
Extensive range of tests for conformance of mobile industry processor interface (MIPI) A-PHY and Automotive SerDes Alliance (ASA) standards, to reduce cost and save multiple installations and license purchases.
Test framework to report multi-trial results, with a full array of statistics for each measurement.
Quick, accurate and repeatable test results for validation and debugging.
The channel test software runs on a E5080B ENA Vector Network Analyzer, PXI Vector Network Analyzers or Streamline Series USB Vector Network Analyzers and provides the framework for connectors, cables and harnesses to quickly test automotive SerDes links.