For many, the term "circuit" conjures a picture of the standard green printed circuit boards (PCBs) that have been used for decades. The boards are rigid plastic, either with printed or etched copper traces, and with sockets for chips and discrete components. Such PCBs are vulnerable, powerful and expensive, and must be protected with even more rigid enclosures or adhesive sealants.
Instead of a rigid PCB, imagine a circuit board that can be wrapped around a pipe, fit into a tight place in an engine compartment, or conform to the human body's contours. What about a foldable smartphone screen that can remain compact for checking a quick text message, but unfolded to watch a movie?
[Learn more about PCB substrates on GlobalSpec.]
These things will all be possible with flexible electronics. And there are many real-world applications that would benefit from flexible electronics.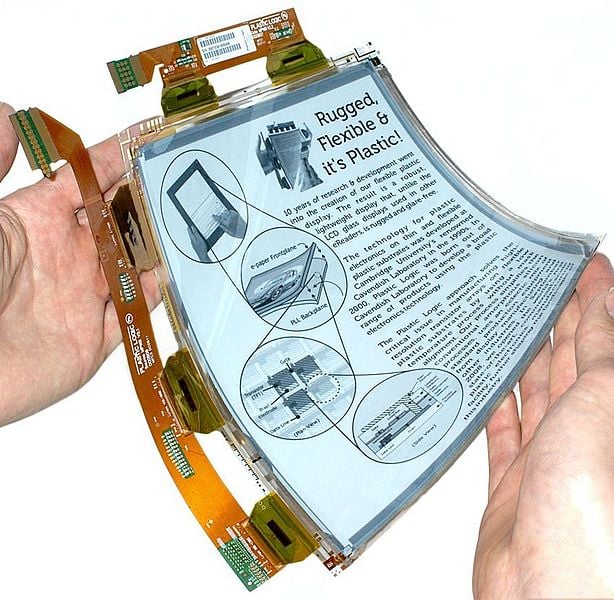 Figure 1. Plastics development for PCBs is making flexible electronics more commonplace. Source: Plastics Logic/CC BY-SA 2.0
Common applications of flexible electronics
Typically, flexible electronics are electrical circuits mounted on a flexible plastic substrate, such as polyether ether ketone (PEEK) or a polyester. The conductive traces must either be a flexible, high-fatigue strength metal, or a conductive polyester to ensure that electrical contact is maintained after many cycles of flexing. Polymers are typically the best material for the job.
At first glance, it may not seem like there is a lot of use for flexible electronics. Most electronics are enclosed in a metal or plastic case, and have no need to bend. The truth is the exact opposite: the electronics are in a bulky case because the boards cannot flex, and must be protected. So many times an electronics package is square or flat, and would be a better fit if it were allowed to flex.
The automotive industry has been benefiting from flexible electronics by increasing the available styles for dash panels, infotainment, and other such automotive electronics. Instead of having only flat, boxy displays, flexible electronics open up a whole new range of styles.
Furthermore, flexible electronics allow for smaller packaging that fits inside a tight engine compartment instead of requiring more space for a standard rectangular prism-shaped box. It allows the automotive designers to design the car for optimal fuel usage, ergonomics and aerodynamics, and then fit the electronics into the available space, instead of accounting for the electronics package early in the design.
Electronic consumer goods also benefit from flexible electronics. Most commonly used electronics, such as smartphones, tablets, digital cameras and others, are meant to be held and used by the human hand. Because the human hand is not rectangular, developing electronics that conform to the human hand makes good design sense.
Satellites and spacecraft require lightweight devices and devices capable of fitting into confined spaces. Both weight and physical space are precious commodities in these applications. Even one kilogram of materials or components, and then the additive hardware to support that, can result in hundreds or thousands more kilograms of fuel to deliver enough escape thrust. Therefore, developing electronics that can fit into small, irregular spots means more efficient use of rocket fuel, and therefore cost.
Of particular interest are solar panels, controllers and electronic hardware for satellites that must be packed into a rocket, but then be deployed to collect solar energy once in orbit. The nature of PV power means the more surface area available, the larger the opportunity to collect light energy. This is the opposite of launch dynamics, where small and compact wins.
Wearables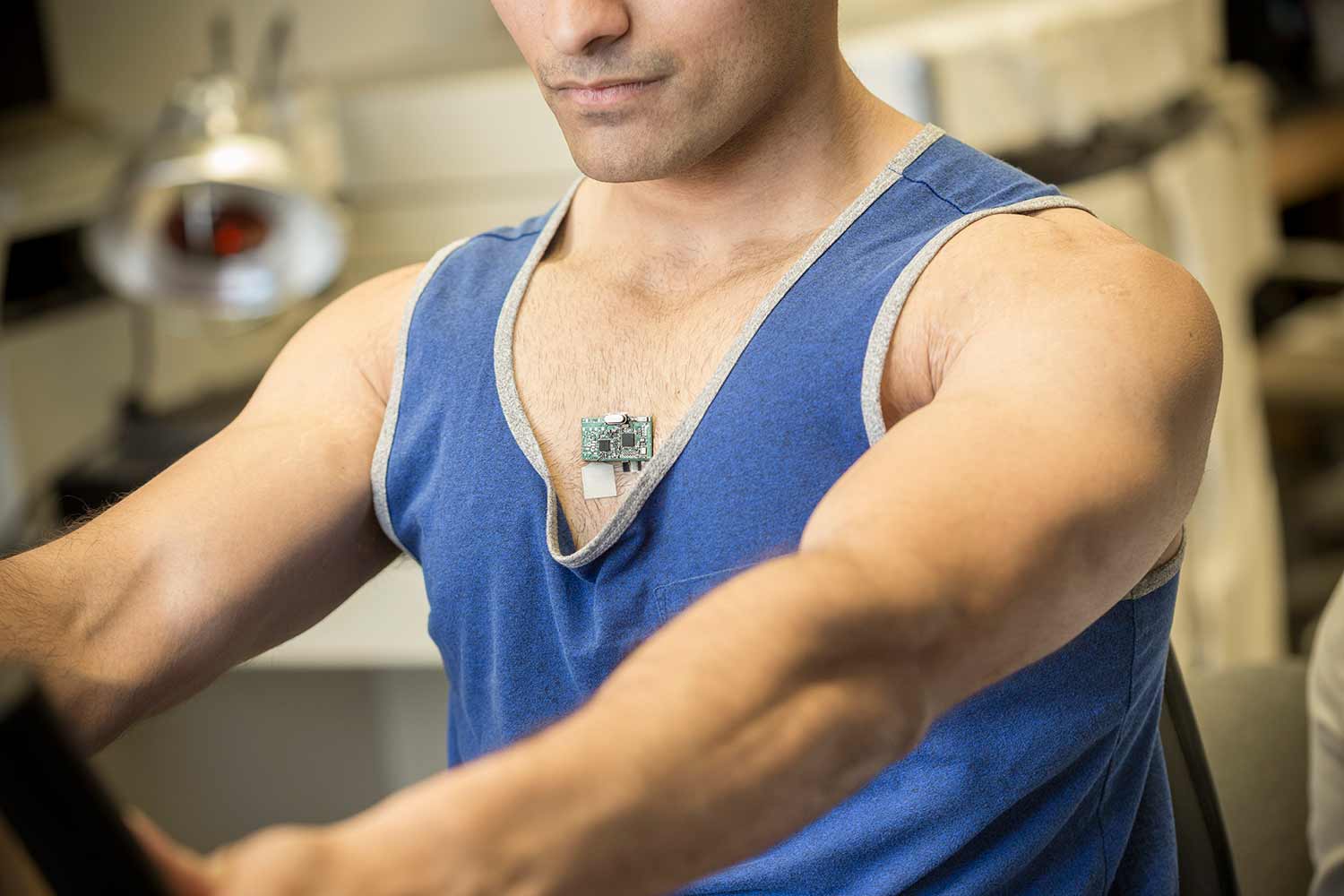 Healthcare stands a lot to gain from increased prevalence of flexible electronics. Source: UCSD Jacobs School of Engineering/CC BY 3.0
With fitness trackers, smart watches and small, real-time medical monitoring devices, flexible electronics will take an active part in this growing market.
Flexible electronics are particularly suited for this type of environment, as every human body is slightly different in shape. With flexible electronics, sensors can match the natural contours of the skin, instead of being forced to wear devices too tightly to ensure contact.
Current research in flexible electronics has focused on medical applications. Besides counting steps and calories, there are blood pressure monitors, oxygen monitors, glucose meters, and even blood-alcohol meters being developed.
Recently, some researchers have been working on flexible electronic sensor packages that will monitor for certain diseases, such as tuberculosis. Future projects include a skin replacement that can be used as a skin graft for a burn victim to give them some sensation again, or a lightweight sensor package that can alert a paralized person to danger that they otherwise would not be able to feel.
Currently, most commercial solar cells are flat panels that can only be attached to flat mounting brackets. For the average homeowner to benefit from solar power, they must have a large roof with lots of flat surfaces to mount the panels. Panels are fixed, and therefore have different efficiencies throughout the day as the sun angle changes.
Enter flexible electronics. As the technology continues to develop, efficient, flexible solar panels may become a reality. Instead of only mounting solar panels on roof-mounted racks, flexible panels can be mounted along other surfaces, such as telephone poles, well casings, fence posts and other such structures. While they may not be as efficient (based on the sun angle), they will still be able to contribute to the power system, especially at lower sun angles during the dawn and dusk hours.
Also, flexible solar panels could even be placed on rounded mounts, so that there is always a panel at the most efficient angles to the sunlight.
[Learn more about flexible circuits on GlobalSpec.]
The future is flexible
In the movie, "The Graduate," Mr. Mcguire famously told Benjamin Braddock, "The future is plastics."
They weren't talking about electronics specifically, but it applies here. The development of flexible electronics and conductive polymers will be alive and well for years to come. The flexible electronics market will continue to grow as new developments bring the cost down, and more applications are realized.