Solar panels have become a common form of renewable energy and researchers are constantly discovering ways to maximize the method of energy production.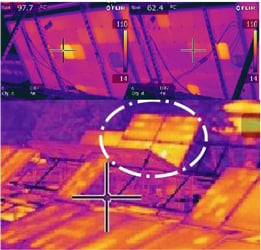 The thermal radiation readings on panels provided a better understanding of how to provide low-concentration photovoltaic systems. Image Credit: Michigan TechMichigan Technological University researchers and a team from Queen's University in Canada have claimed to discover a way to get more sun to shine on solar panels, increasing their output by 30% or more.
"We're looking at this from a systems perspective," says Joshua Pearce, associate professor of materials science and engineering and electrical and computing engineering.
According to the researchers, typical flat-faced solar panels that are in place in large-scale utility solar farms are methodically spaced apart to prevent shading. When sun shines on a photovoltaic system, it sends electricity to the grid. However, there is a certain amount of that potential energy that is lost as the light hits the ground between rows of panels. The research aimed to provide a solution to this problem and what the teams came up with was the practice of filling the space with a reflector in order to bounce sunlight back onto the panels.
The team had to do some research to prevent solar panel warranties from being void due to the new method. Pearce and the teams discovered a way to predict the effects using bi-directional reflectance function, or BDRF, in order to prevent this from happening.
They created BDRF model that could predict how much sunlight would bounce off a reflector and where it would shine on the array. "Real surfaces do not necessarily behave like perfect mirrors, even if they look like it," says Pearce. "So we applied [BDRF] models to these materials, which scatter the light instead."
This eliminated the risks of using reflectors with solar panels.
The team then took its model to the field and conducted experiments in the Open Solar Outdoors Testing Field in Canada.
"The results shined much more light on the problem than predicted by others. With standard panels, not tilted at the optimum angle for the latitude, the increase in efficiency reached 45%. Even with a panel optimally tilted, the efficiency increased by 18% and simulations show it could be pushed to 30% with better reflectors," according to Michigan Tech.
Such a large increase of efficiency at the system level then could greatly change how solar panels are installed, and with the economic payback, it could even mean major retrofits for existing solar farms.
Pearce explains that the solar industry could benefit from using the mathematical equations they employed in this research to create more efficient solar farms.
The work is published in the Institute of Electrical and Electronics Engineers (IEEE) Journal of Photovoltaics.
To contact the author of this article, email engineering360editors@ihs.com