Quantum dot light-emitting diode (QLED) uses nanoscale semiconductors to create pure monochromatic light in the three primary colors. In addition, the QLED technology has achieved sufficient electroluminescence properties that do not require backlighting, enabling the manufacture of practical displays with incredibly thin proportions. They also benefit from offering a broader color spectrum and a better black from similar organic LED technology.
These properties open the way for very large lightweight displays to revolutionize advertising and highly flexible displays that can be repeatedly folded or perhaps ultimately scrunched like paper.
QLED technology was first demonstrated in 2015 by a joint research team based at Seoul National University. The team created a display with a thickness of just 3 micrometers. This research has now produced a foldable variant that can adopt complex 3D shapes. This capability has immediate applications in smartphones and other portable consumer devices, where foldable displays have now reached the market.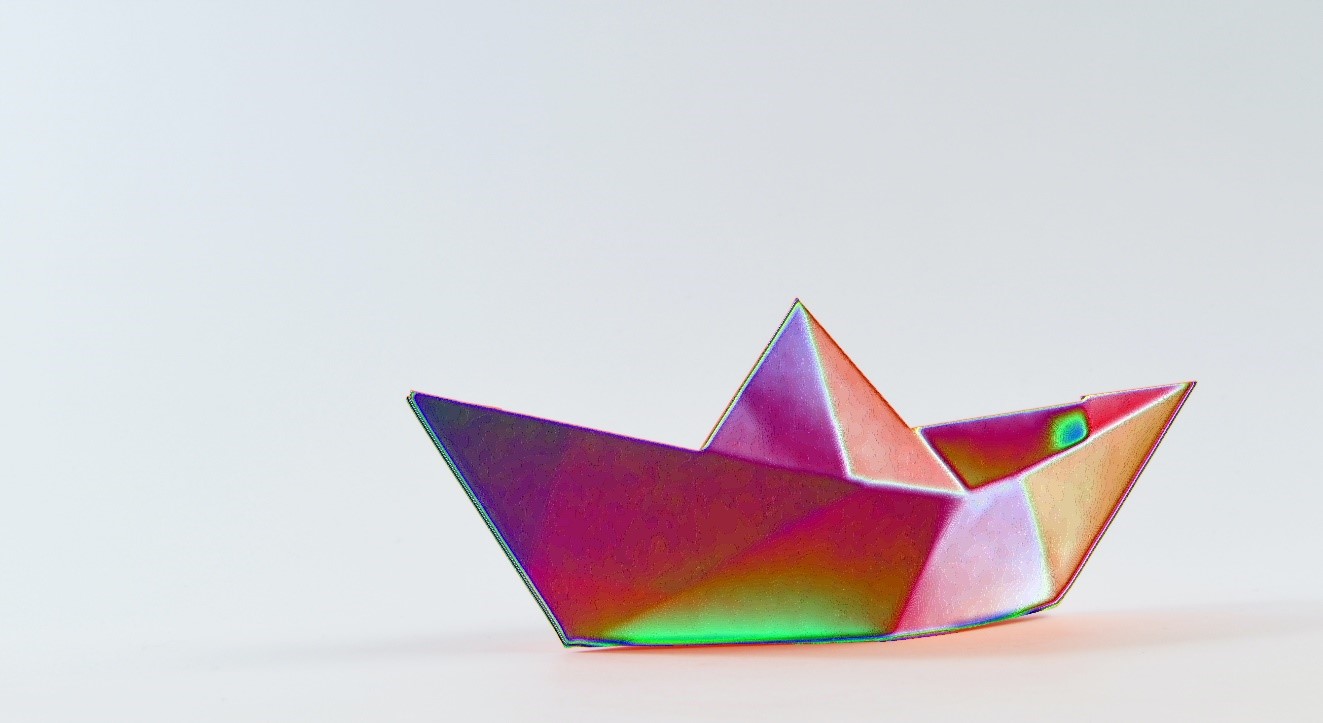 Complexly foldable display screens are now a reality. Source: Miguel Á. Padriñán, Pexels
Etching fold lines create flexibility in an epoxy-based layer that is deposited over the base QLED layer. This epoxy coating provides structural strength and durability to the QLED to allow general handling while the etched lines enable the material to be folded along predefined lines. The flexibility properties of the composite display material require careful control using a power-controllable carbon dioxide pulsed laser. This method allows precise cutting of the epoxy layer, combined with the use of silver-aluminum alloy-based etch-stop layers to limit cutting depth and spread. This technology allows cutting accuracy of around 50 micrometers, creating a perceivably sharp fold line with no visible curvature to the edges.
A working 3D foldable QLED array composed of 64 individual pixels has been created as a proof of concept. In addition, current techniques have demonstrated fold lines that can withstand mechanical activation around 500 times without adversely impacting the performance of the QLED components.
The ability to fold along predefined fold lines has lent itself to creating complex 3D shapes using folding techniques familiar to anyone that's tried origami. In addition, the current robustness of materials is already suitable for creating imaginative displays for marketing purposes.
Once robustness levels have improved, practical applications for foldable smartphones will be realistic. The advantage of this technique is that foldable displays will not be limited to simple 2D size changes where the display area halves with each fold as currently being developed. Instead, large screens can fold using complex geometry to smoothly and quickly transition from a small compact volume to a large flat surface as a single action.
A screen display that resembles and maybe even feels like paper could revolutionize e-books, offering readers the comfort and experience of turning pages combined with the presentation of programmable content.
Find the full research announcement and read more about technology now.