Foldable robotic arms based on origami-inspired design enables are lightweight, compact and scalable structures that maintain kinematic behavior. However, the lack of structural stiffness has been a major limitation in their practical use.
A novel origami-inspired robotic arm engineered at Seoul National University incorporates variable stiffness concepts to realize a foldable, self-assembling and highly rigid device. Its shape is changed by manipulation of a single wire and can fold flat or become instantly stiff.
A collapsible locker enables the robotic arm to overcome drawbacks of origami-inspired structures. The variable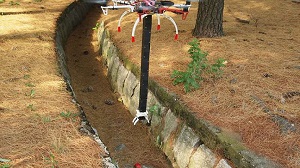 Drone with robotic arm can grip an object in a ditch. Source: Seoul National Universitystiffness mechanism is based on an origami principle of perpendicular folding; two perpendicular fold lines constrain each other's movement. A hexagonal structure (40 by 40 by 100 mm) weighing less than 30 g can withstand more than 12 kg of compressive load. The lockers can be easily unlocked and the structure is folded flat by pulling a single wire with a small force.
The wire path is designed to unlock the variable stiffness mechanism sequentially and then to fold the arm with the wire. When the wire is pulled with a motor, the force to unlock the variable stiffness mechanism and the force to fold the arm occur simultaneously. When lockers are wedged inside the module, the variable stiffness mechanism moves and unlocks the structure, making it flexible enough to be folded flat.
Benefits of the foldable robotic arm are evident when attached to drones where the weight and the size constraints are the most extreme. In the video above, the drone unfolds the robotic arm, picks up an object in a ditch, and films the trees. When the robotic arm is not in use, it folds flat for convenient maneuvering, easy take-off and landing. The proposed variable stiffness mechanism can be applied to other types of robots and structures in extreme environments such as polar areas, deserts, underwater and space.
The research is published in Science Robotics.