The market for smart TVs and smart speakers/displays have shown significant growth since the start of the COVID-19 pandemic, rising 56% and 53% respectively, according to new research from Parks Associates.
The outbreak of the COVID-19 pandemic caused workers to stay at home, kids to be taught from home and the public to stay out of local hotspots. So consumers turned to new entertainment options at home, including smart TVs, smart speakers and smart displays.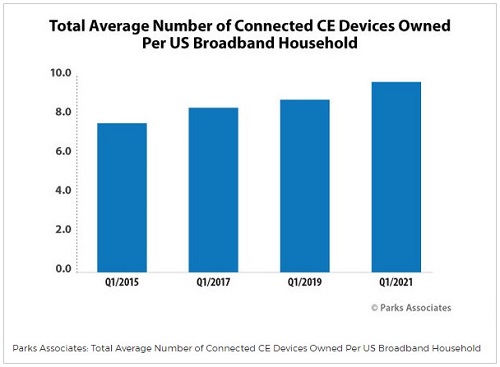 Growth of connected entertainment devices in the first quarter outgrew the number of devices sold in the fourth quarter of 2020, typically the largest selling quarter for consumer electronics. Source: Parks Associates. "Big announcements in the smart TV space by Amazon and Comcast are evidence of where the home entertainment market is headed," said Paul Erickson, senior analyst at Parks Associates. "TVs are now consumers' most common video centerpiece in the home, and technology powerhouses are vying to own this point of entertainment aggregation — and all the data that goes with it — by controlling the platform itself."
The entertainment landscape has changed from just providing access to entertainment to providing value to the platform through features such as voice assistants, smart home integration and better user experiences. Smart TVs have become the anchor for an ecosystem of entertainment options in households, Erickson said.
The first quarter of the year is typically a slow time for smart TVs and displays due to seasonality. However, the pandemic changed that as product categories related to connected home entertainment grew across the board.
"Consumer electronics device manufacturers are best served by product strategies accounting for consumers' increased use of devices at home for work and streaming entertainment purposes," Erickson said. "While mobility remains important, consumers now see renewed value in at-home work and lifestyle use cases."
The full research can be found in Parks Associates' Consumer Insights Dashboard.