One of the key emerging technologies that address the growth of internet traffic and higher data rate demands is silicon photonics, which leverages silicon as an optical medium. Its primary applications are in the data center market, driven by big data and cloud applications, but the technology is also expected to be used in other areas, including healthcare, automotive light detection and ranging (lidar), optical computing and quantum computing.
While the technology holds great promise, however, its testing requires a variety of sensitive and accurate measurements. Unlike traditional electrical wafer testing, silicon photonics requires optical structure testing with fiber probes that can accurately control z-height, laser beam angle and fine lateral alignment. Manufacturers considering silicon photonics fabrication have had to contend with a lack of commercially available testing equipment employing fully automated wafer probers to support mass production.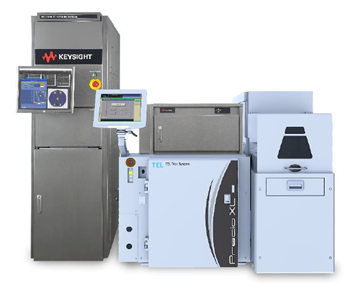 The NX5402A is a forward-looking solution designed to anticipate growing market demand for silicon photonics. Source: Keysight Technologies Inc.Enter Keysight Technologies Inc., which recently announced its NX5402A silicon photonics wafer test system as a forward-looking solution designed to anticipate growing market demand. Integrated with Keysight PathWave semiconductor test software technology, the new system is designed to enable semiconductor manufacturers to speed delivery of silicon photonics wafer production with stable and repeatable test capabilities.
Key benefits of the NX5402A include:
Fully automated: Integration with Keysight's PathWave semiconductor test software eliminates manual operations and enables one-pass testing. PathWave is also compatible with Keysight's semiconductor process evaluation core (SPECS) software, a parametric test shell that merges an intuitive graphical user interface (GUI) with the organizational logic of a spreadsheet to create an efficient test plan development environment.
Volume production ready: Provides high-throughput testing based on multi-channel optical and electrical test architecture, as well as optimized fiber alignment. The system supports manufacturing use with factory automation software, safety interlock and clean room-ready features.
Demonstrated system performance: Maintains high accuracy, repeatability and reproducibility from laboratory to fabrication, delivering advanced wafer-level photonic calibration, along with reliable performance monitoring through built-in automatic system diagnostics.