The chip shortage impacting the supply chain has made life difficult for many industries. But not so for electronic distributors that are having a tremendous year fueled by increased demand from new and old suppliers.
Not being able to find the right part to meet demand is something many segments have been facing for the majority of 2021, causing delays in product rollouts, disrupting planned expansion or halting production of vehicles in the case of the automotive industry.
With chips in such high demand, electronics distributors are seeing sales skyrocket as companies in dire need of parts turn to these companies; even some that have never used an electronics distributor before.
(Learn more about Semiconductors on Globalspec)
A banner year
"We are having a banner year, but not one without challenges," said Jeff Newell, senior vice president of products at Mouser Electronics. "In my almost 30 years in this industry, I have never seen an environment like this one. Our strategy to invest in inventory regardless of business conditions is paying off. While we are working hard to get more product on our shelves due to long lead-times and availability issues, our shelves still have a lot of products and a lot of new products just waiting for an engineer to design into their next big thing."
Newell said customers are looking for inventory and relying on distributors to eliminate the risk of counterfeit or grey market products.
"When the market is like this and parts are hard to find, customers will utilize any source they can to find what they need," Newell said. This even means going to an electronics distributor for the first time.
Digi-Key is also seeing business boom and new customers coming along to find parts.
"Certainly, our business has increased," said David Stein, VP of global supplier management at Digi-Key. "Our billings are at record levels and up over 60% from last year in revenues. From a digital footprint perspective, manufacturers are leaning on our business to support the global engineering community and the designs of tomorrow."
It is the same story at distributor Avnet Inc. where suppliers and customers are coming in droves to find chips they cannot get elsewhere or to find an alternative that could work around current designs.
"We're seeing suppliers and customers really leaning on us more and more and leveraging more of our capabilities, both on the design chain side for our technical and design capabilities and on the supply chain side, which is every bit as much of a strategic differentiator as our world class technology and design chain solutions," said Tony Roybal, president of Americas Electronic Components at Avnet.
Avnet is focusing on extending its visibility for planning and demand, something that will take quite a bit of time but simultaneously will offer opportunities for growth.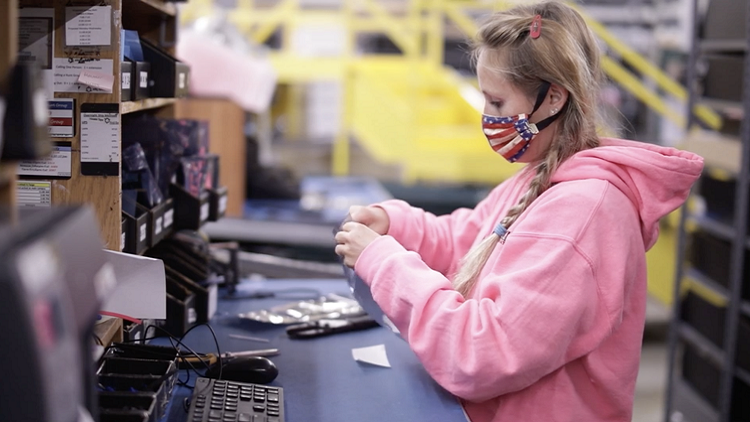 A Digi-Key employee fills an order in the company's warehouse. Digi-Key has seen its business boom during the pandemic-fueled chip shortage with new companies coming to use the distributor. Source: Digi-Key
Planning ahead
Electronics distributors are known for buying bulk inventory to meet the demands of many customers simultaneously. This strategy has paid off during the pandemic-fueled chip shortage.
Digi-Key had signs before the pandemic that 2020 was going to be a record year with new product introductions happening from its suppliers. So, the company began a purchasing cycle for the next 18 months, beginning in 2019, Stein said. The forward-looking focus is continuing with Digi-Key purchasing on an 18 to 24 month rolling window and looking at purchasing needs out to 2023.
Mouser added more than 130 semiconductor and electronic components manufacturers to its portfolio during the chip shortage to give engineers as much choice in design in case they could use a different part for the same design.
"Even with our strong inventory position we are not immune to extended lead times and allocation on some products," Newell said. "We are closely watching our part numbers that are stocked out and working with suppliers to replenish those part numbers as quickly as possible."
Avnet too had a buffer with inventory in place to meet demand. But as with other distributors, as time went on, lead times grew. But even with lead times becoming longer, the customers still came.
"Certainly, the a-ha moment occurred with customers that weren't leveraging channel partners such as Avnet," Roybal said. "Now, they are all talking with us and working to de-risk their supply chain going forward."
Initially, distributors saw high demand for microcontrollers, microprocessors and sensors as well as some commodity semiconductors at the start of the pandemic in early 2020. Particularly in high demand were electronics for the healthcare industry that were in critical need.
In late 2020, when some of the sectors got up and running like the automotive industry, capacitors, resistors, diodes, linear and analog become a more dire need for some of these verticals.
(Learn more about discrete electronic components on Globalspec)
"The market has created a lot of opportunities and we have been in a great position to help navigate this challenging market and provide solutions," Roybal said. "We're leveraging technology and tools and digging deep with our customers, assessing bill of material health and taking action together to mitigate risk."
Turning to digital distribution
There has been an evolution toward digital when it comes to distribution as the customer engineering base gets younger and the buying community is more proficient in technology and the use of the internet and smartphones. The ability to search for products and the digital footprint allows users to search for similar products that are in stock where other similar products might be out of stock.
"This allows some of the younger population in the industry to be more comfortable with the use of the internet rather than face-to-face," Stein said. "At the end of the day, you can do your job at any time, 24 hours a day with the internet without having to call a supplier or look for an engineer from a supplier partner."
Continued investment
While the focus for these distributors is to meet the demand of its core customers, they are also investing in the future to increase processing, accuracy and speed of getting parts in the hands of companies.
Digi-Key is expanding its Product Distribution Center to the tune of 2.2 million square feet and the company claims it is one of the largest building projects in the U.S. The center, located in Thief River Falls, Minnesota, will be large enough to fit 22 football fields and will include shipping and receiving docks, airlocks, multiple breakrooms in addition to the manufacturing and assembly space.
Mouser recently installed 102 vertical lift modules (VLMs) in its warehouses to increase automation. These VLMs are vertical filing cabinets with shelves and an automated elevator to bring the components to the employee's workstation.
(Learn more about industrial storage containers and modules on Globalspec)
Additionally, Mouser installed multiple I-Pack machines — automated packing and boxing systems that can process up to 14 orders per minute — and are adding OPEX systems and an AutoStore, which will allow orders to be quickly processed, picked, packed and shipped.
"Today's modern world runs on electronic components," Newell said. "The pandemic forced the slowdown of the supply chain. Yet the industry will still grow at all-time-high rates this year and will come out of the pandemic much stronger than before."