The COVID-19 pandemic has disrupted supply chains around the world, affecting virtually every industry and sector. Innovative solutions from BinMaster offer a route that businesses can take to navigate the financial and operational challenges of these disruptions while rapidly addressing the needs of customers and suppliers. By taking the right actions, supply chain leaders can turn massive complexity and supply chain disruption into meaningful change.
The BinCloud platform is an integrated cloud foundation for data monitoring of inventory contained in bins, tanks and silos. The system enables on-site and remote personnel to work via the cloud. BinCloud operates in concert with the BinView web application to monitor solids, powders and liquids across all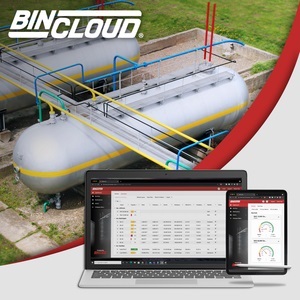 Source: BinMasterprocess industries. The platform is also the basis for FeedView used by swine and poultry growers to manage feed and place orders with feed mills.
Features of BinCloud include real-time monitoring, automated alerts via text or email, and historical reporting. Software can be used to manage a single site or across multiple locations and accommodate hundreds of vessels.
Level sensors on silos and BinView software as a service put inventory on the user's phone, tablet or PC to strengthen the link with suppliers. Data can be shared between planners and suppliers for insight into current material availability and pricing. Suppliers can also view current material supplies and take a proactive approach in the manufacturing, ordering and delivery processes.