SMART Modular Technologies has introduced double data rate 5 (DDR5) modules that feature enhanced endurance and stability for industrial applications.
These dynamic random-access memory (DRAM) modules combine the advanced technology of DDR5 with SMART Modular's rigorous test processes in order to ensure reliable operation at industrial-grade temperatures (-40° C to 85° C). Customized SMART test programs and test flows combined with specialized burn-in equipment are used to screen out DRAM components that are likely to fail under temperature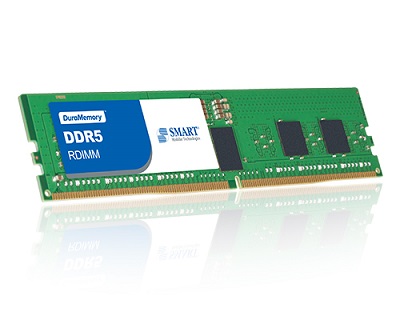 Source: SMART Modular Technologiesstress, resulting in modules that exhibit some of the lowest defective parts per million rates in the industry. SMART's industrial-grade modules are 100% system tested at high speeds, starting with a cold boot at -40° C and ramping to 85° C ambient operation. High-utilization customized testing software fully stresses all cells in the DRAM through the complete temperature cycle.
SMART also offers its SMART ARC (anti-vibration retention clamp), a locking retention device explicitly designed to secure memory modules used in operating environments that require maximum stabilization in the field.
SMART DDR5 industrial-grade modules provide twice the performance of DDR4 while improving power efficiency. This is accomplished with an on-dual in-line memory module (DIMM) 12 V voltage regulator (PMIC) and dual-channel DIMM topology for higher channel efficiency.
These modules are well-suited for a wide variety of applications, including single-board computers used in industrial and defense applications, base stations and telecom equipment exposed to outdoor elements, as well as densely configured computing applications with limited airflow.