Radio frequency testing pioneer Rohde & Schwarz has just introduced what it calls the "next generation" of its R&S RTO6 digital oscilloscope, an expansion of its successful R&S RTO oscilloscope family.
The new R&S RTO6 models are designed for a multitude of applications, ranging from EMI debugging and spectrum analysis to automotive Ethernet testing and serial bus analysis, as well as power electronics testing and digital design. Top features include high waveform rate, excellent signal fidelity, a powerful digital trigger and responsive deep memory.
[Discover oscilloscopes on Globalspec.com.]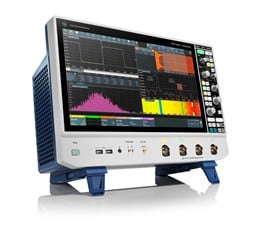 Rohde & Schwarz says its R&S RTO6 takes the R&S RTO oscilloscope family to the next level. Source: Rohde & SchwarzIn developing the new line, the company states that its engineers focused on improving everyday usability. They found their solution in a newly designed user interface, which includes a 15.6 inch full HD screen with touch functionality. The large screen can display a maximized waveform viewing area, and signals can be dragged and dropped to different parts of the screen with R&S SmartGrid technology.
The developers of the R&S RTO6 also implemented an architecture with a dedicated application-specific integrated circuit (ASIC) for optimized signal processing and an acquisition rate of up to one million waveforms per second, designed for detection of even sporadic signal faults. Precise capturing of signal detail is made possible by a low-noise frontend and single-core A/D converters that achieve a spurious-free dynamic range (SFDR) of 65 dBc and an effective number of bits (ENOB) measurement of 9.4.
Enabling the device's high-definition mode, moreover, reveals greater signal detail: HD mode increases vertical resolution up to 16 bit with digital filtering, resulting in sharper waveforms and less noise. The filtered signal is used by Rohde & Schwarz's patented digital trigger system, achieving what the company calls "unprecedented trigger sensitivity."
The device's 200 Mpts standard acquisition memory, which can be optionally configured to 2 Gpts per channel, allows analysis of long-pulse and protocol sequences. Previous trigger events can be analyzed thanks to the constantly enabled history mode and comprehensive search functions.
More than 90 measurement functions are included in the R&S RTO6 series, and application-specific software options for complex measurement can be unlocked via keycode as user testing requirements evolve. Rohde & Schwarz also offers an extensive probe portfolio to support R&S RTO6 measurement tasks.
The R&S RTO6 line is comprised of six different bandwidth models ranging from 600 MHz to 6 GHz, with a sample rate up to 20 Gsample/s. For more information, visit the R&S RTO6 product page.