The PL-50240 from WIN Enterprises is a fanless embedded system with IP66 support, smart venting, Wi-Fi/LTE/CANBUS, and powered by the Intel Atom processors. The unit provides flexible handling of outdoor internet of things, traffic management, environmental energy facilities, weather station support and operations in extreme climates such as high altitudes.
Designed for 24/7 outdoor operations requiring a ruggedized x86 computer, which can be deployed unprotected at the production edge, the unit offers a compact platform that still delivers on performance and reliability. The PL-50240 is designed to deal with climate changes in all conditions. The PC box device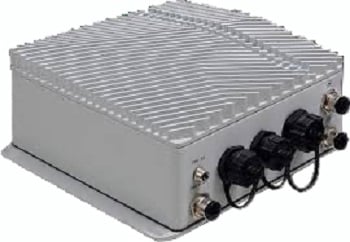 Source: WIN Enterprisesprovides the ability to withstand environmental insults such as intrusive water and dust and is designed with a smart vent that drains water automatically. The white enclosure helps it to handle wide-temperature ranges from -40° C to 70° C to allow reliable operation even in direct sun light.
To support wireless communications, an external subscriber identity modules (SIM) slot eases the task of changing out SIMs. A high-gain antenna ensures high-quality communications. Flexible I/O settings, such as a combination port that supports 2 CANs and 2 COMs and selective display ports (HDMI/VGA), helps meet the needs of a wide variety of applications. Integrated Windows Ecosphere enables support for a variety of operations. This feature is a built-in, powerful Intel Atom processor that natively supports rich software frameworks further reducing the possibility of performance loss and making installations more flexible.