Ultra-wideband (UWB) communication, as standardized by IEEE 802.15.4, enables very low power communication and very accurate ranging in the license-exempt radio spectrum. The technology, according to wireless device testing solutions provider Rohde & Schwarz, is now entering the consumer market by way of mobile phone and automotive applications; typical use cases are keyless entry, asset finding, mobile data sharing and secure payment.
The key to UWB technology is the ability of devices to determine their location based on distance, moving direction and position relative to other devices. The distance between two devices is calculated by measuring the time a UWB signal needs to travel from a transmitter to a receiver, also known as time of flight. By measuring the time or phase difference of a signal received at both UWB receiver antennas, it is possible to calculate the angle of arrival (AoA).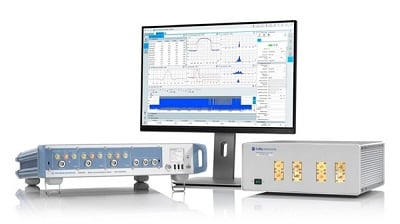 The new test solution combines the R&S CMP 200, left, with the Colby Instruments XT-200. Source: Rohde & SchwarzRohde & Schwarz has just announced a collaboration with Colby Instruments, a manufacturer of programmable delay lines, that will provide the UWB ecosystem with a concerted test solution that accurately simulates the moving direction of UWB devices.
According to a press release, the move allows engineers testing UWB devices to combine the R&S CMP200 with Colby Instruments' high-precision XT-200, enabling both calibration and verification measurements. The dual-channel delay lines in the XT-200 let users characterize the device under test (DUT) with a delay range from 0 to 625 ps in each channel and a resolution up to 0.50 ps step size, making it possible to simulate even granular angles and distances.
[Discover delay lines on Engineering360.]
Colby's X series, which includes the XT-200, is an update to its PDL line that features a streamlined and lighter weight chassis. The R&S CMP200, a radio communication tester and wireless manufacturing testing (WMT) software service, combines the capabilities of a signal analyzer and generator in a single instrument. With features such as ultrafast measurement speed, parallel testing of multiple DUTs and fully automated path correction, Rohde & Schwarz calls it a "complete solution" for transmitter and receiver measurements in conducted and radiated environments.